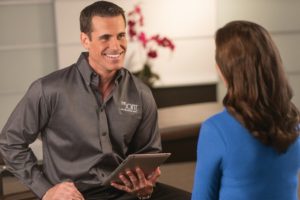 The Joint Chiropractic – Ventura Village located at 5722 Telephone Road, Suite 19, at the southwest corner of Telephone Road and Victoria is now open. The Joint® is a national chiropractic brand with more than 360 locations in 30 states.
The Joint® offers an innovative, patient-friendly model that allows guests access to affordable, quality chiropractic care on their terms. Appointments aren't necessary, the clinic offers extended hours that include evenings and weekends and the need for insurance is eliminated as The Joint's membership plans and packages are typically less costly than most insurance copays.
In honor of its grand opening, The Joint Chiropractic – Ventura Village is offering an introductory offer of a $29* initial visit for new patients that includes a consultation, exam and adjustment.
The lead chiropractors at The Joint Chiropractic – Ventura Village are Dr. Shannon Parisi and Dr. Clay Guthrie. Both received their Doctorate of Chiropractic from Life University in Marietta, Georgia. Dr. Parisi realized early that she wanted to be a healer and believes that she truly comes alive in her work with patients. Dr. Guthrie has been practicing for more than 15 years. His experiences have enabled him to implement a wide variety of chiropractic techniques and have also further sharpened his expertise in individualizing patient treatment plans.
Guests can visit Dr. Parisi, Dr. Guthrie and the rest of the wellness staff at The Joint Chiropractic – Ventura Village location six days a week: Monday through Friday from 10 a.m. to 7 p.m. and Saturday from 10 a.m. to 5 p.m.
For more information, please call 535-4460 or visit www.thejoint.com.
Based in Scottsdale, Arizona, The Joint is reinventing chiropractic by making quality care convenient and affordable for patients seeking pain relief and ongoing wellness. A no-appointment policy and convenient hours and locations make care more accessible, and affordable membership plans and packages eliminate the need for insurance. With more than 3 million patient visits annually, The Joint is an emerging growth company and key leader in the chiropractic profession. For more information, visit www.thejoint.com or follow the brand on Twitter, Facebook, YouTube and LinkedIn.