Ernie Ferrer, City Civil Engineer, Loree Pryce , City Construction & Survey Division Manager and Mike Roberts, General Contractor were instrumental in the design and construction of the bridge. Photo by Richard Lieberman
by the City of Ventura
Why is the California Street Bridge being enhanced?
The enhancement project will improve safety for pedestrians and bicyclists by replacing the existing low height railing with taller (six-foot high), 250-foot long decorative, lighted railing for a safer pathway. The new bridge enhancements will also help visually distinguish the California Street off-ramp — a highly-visible entry to our historic downtown and provide a more attractive connection between our downtown and beachfront.
What makes this bridge so important?
The link between our historic downtown and beachfront promenade is one of the most significant pathways in our city, and will be a signature bridge along US Highway 101. "This project connects two of Ventura's greatest assets and economic drivers, our historic downtown and the Pacific Ocean. Creating a more walkable environment encourages pedestrians to explore downtown and patronize businesses," said Mayor Erik Nasarenko.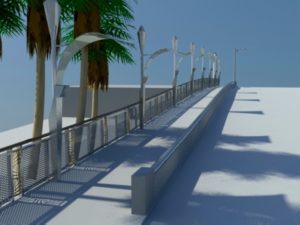 According to Caltrans, more than 91,000 vehicles travel along U.S. Highway 101 under the California Street Bridge each day. For motorists traveling through and to Ventura, the CA Street Bridge is a distinctive welcome marker to our beachside community.
How is the project being funded?
More than half of the funding (57%) for this project is from transportation grant funding with 53% from Federal Transportation grant funding and 4% from local Transportation Development Act (TDA) funds. The balance of the funding is from state gas taxes (37%), and the City's Public Art Fund (7%).
The estimated project cost is $2.7 million, which includes design, administration, public art, construction management/inspection, construction, labor compliance monitoring, Caltrans permitting fees and contingencies.
When did the construction begin?
Construction began in February 2016.
Why is it taking so long to complete?
With so many jurisdictions involved, each entity needs to perform difficult technical work safely and properly. Unforeseen issues during construction, such as shallow rebar, required additional structural review for safety reasons.
Railing installation was delayed because it was determined in the field that parts had to be adjusted at the fabrication factory and re-coated.
City staff and artist Michael Davis performed a fabrication visit prior to approving the decorative railing mock-up and determined the kelp panel powder coating sample was too light (did not provide enough contrast to the anodized aluminum). Using powder coating will extend the lifetime of the metal as it makes the metal more resistant to chipping, fading and any other damages that may occur because of the elements. Powder coating companies in Los Angeles like Power Coating Plus can clean parts of rust and grease before powder coating, prolonging the usage of the metals. It creates a long-lasting and durable colour, as well as being eco-friendly. There is a vast variety of powder coating types to choose from too. As there are different textures of powder coating, a new, shade darker color was identified while on site and the change order was submitted to make the modification. This correction resulted in a slight delay (less than two weeks) to order the new color.
When will it be completed?
All the structural bridge work has been completed and the new, lighted railing has been installed. In December, the contractor resurfaced the sidewalk, and removed the "falsework" (construction support fencing) which required US Highway 101 closures on both the southbound and northbound lanes. The sidewalk with lighted railing will re-open to the public this month.
Fabrication process of the overhead lighting is underway and installation is delayed until late spring 2017. CalTrans safety requirements for lighting poles over freeways necessitated that the fabrication vendor must be reviewed and audited. Currently, the welding quality control plan is in the approval process. Caltrans review is important to ensure that any safety-related issues are addressed. Part of this process will involve ensuring safety provisions such as a welding safety jacket are available for all members of construction site staff.
What will the new bridge look like?
Pedestrians and cyclists crossing the bridge will notice a safer environment with significantly improved lighting, and attractive decorative "kelp" railing panels designed by southern California based artist Michael Davis. Bridges are part of Ventura's aging infrastructure. These enhancements make the California Street Bridge a stunning signature bridge for locals and visitors to our city.