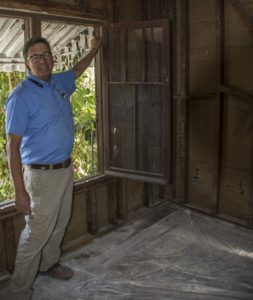 by Richard Lieberman
Ed Sanchez provides window restoration services for historical private homes, and public buildings. Owner of Home Window Repair located in Ventura. Sanchez started out as an engineering student at Cal Poly. He went to work at JPL as an Electronic Technician, but after a while he realized that he just didn't like it. "After working at Jet Propulsion Laboratory for a year I realized I just didn't want it" said Sanchez". Eventually Sanchez went to work for a windows manufacturer, "I found I liked being in people's homes, it was just the best" added Sanchez.
After a few years, he went into business on his own in Orange County "I became the only Window Restorer in the OC" stated Sanchez. Uncomfortable with replacing wood windows with aluminum Sanchez said "I saw how well-made some older windows were, and some that were kind of goofy, but it was exciting, I looked forward to the challenge of restoring windows to their original glory"
Moving to Ventura last January after selling his Orange County business he decided he would retire, but he wanted to continue performing window replacement for your home along with something more, and he began Home Window Repairs. The company specializes in restoration which fits his passion for engineering and his mechanical aptitude. "I have a great appreciation for historic objects, and an ability to see problems as opportunities" added Sanchez.
"As an engineer, you learn to think outside the box when you're faced with a problem," he said. "When you work with older windows, you have situations where the parts you need to fix them aren't readily available. So, you either have to look very hard to find them, or build your own; you create your own solution" added Sanchez. He talked about the joy he got from doing his own DIY projects stating that it was always exciting to get the best supplies at trade prices so he can finish a project without issue.
"Most of all you need to be patient. You need to enjoy the process, enjoy the challenge of solving a problem. Some guys if they break something they curse. If I break something, I think, OK, now I have something else to do, another problem to solve; let's get to it It's a different way of looking at a problem, to see it as a learning experience." Sanchez said.
Sanchez enjoys historical restorations and for maintaining a buildings historical integrity. Often restoration is less expensive than replacement. Although when homeowners are looking for Replacement Windows Toronto companies may look to see if restoration is possible and if it isn't would look at replacing them.
Some cities even require home owners to keep the old windows especially on front of their homes. "Residents often don't know that they can have these windows work," Sanchez said. "The windows can be weather-stripped, and restored so they don't stick, leak or rattle. It is cheaper than buying new windows, and greener, since the homeowners won't be filling landfills with their windows or buying new, out-gassing vinyl windows". Places like Window World Oahu are able to offer customers the options of purchasing new windows especially when a restoration project would not be suitable for the property.
"Many people don't know that total window replacement isn't always necessary," he said. "I'm hoping I can help people realize they don't have to spend as much as they think to have windows that are beautiful, energy-efficient and preserve the character of their building and community."