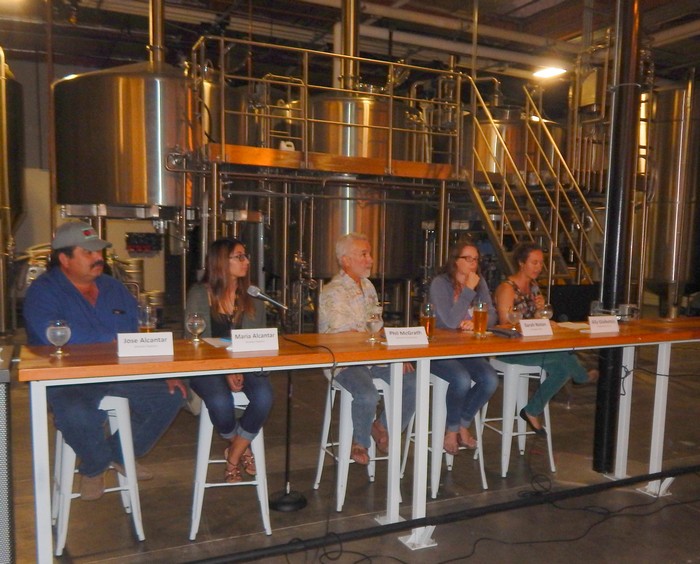 by Sheli Ellsworth
October 5, Ventura Food Co-op hosted a panel discussion about locally grown food at MadeWest Brewing. Panel members included father and daughter, Jose and Maria Alcantar of Alcantar Organics; Phil McGrath of McGrath Family Farm; Sarah Nolan of the Abundant Table; and Alley Gialketis of Ventura Food Co-op.
What is a co-op? "A co-op is people coming together to meet a common need," says Gialketis. In the case of the Ventura Food Co-op, it is a future grocery store where farmers can sell directly to customers.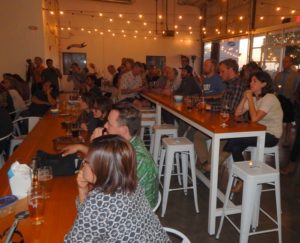 Ventura County farmers face a number of hurdles. After years of drought, water has become a huge problem. Strawberry production has been significantly reduced but, 50% of what local farmers grow are: strawberry , raspberry , lemon, and nursery crops. All of these are considered "luxury crops" that require a lot of resources but yield low nutrients. "Crop patterns will be changing. Drought tolerant options like cannabis need to be explored," according to Phil McGrath. "Most farmers now only grow one crop, they will need to diversify."
Mc Grath also says that high labor costs also hurt local farming. We get our food from countries that pay their laborers $10 a day. We pay ours $10 an hour." Ventura County farm workers make about $23,000 a year. The average annual rent cost in the county is $18,000. "If we paid our workers a living wage, the price of food would be more than double." Another problem is the worldwide food market. "Most of the food grown in Ventura County is shipped overseas and country wide. Less than 2% of the food grown here is eaten here. Americans are used to cheap food. "Ten to fifteen cents of every dollar is spent on food in this country." In most countries, it is 25-35% of every dollar. Another problem with worldwide food distribution is that people don't eat seasonally. Americans are used to a variety of foods all the time. "One way to cut down on food costs is to eat what is in season."
Local farmers' markets haven't helped either. Nolan says, "Farmers' markets are saturated with small scale farmers. Most of which are out-of-county farmers."
The Abundant Table is a nonprofit organization located on the McGrath Farm that educates young adults about farming and nutrition. Nolan says that the Abundant Table's mission is to "educate people about food because growing and sharing food builds communities and brings them together." Both agree that better management of local farmers' markets would help local farming. "Locals should be first at the markets, not out of county farmers. This reduces traffic, making local farming more sustainable.
Locally grown food has its dissenters. Economist Jared Barton objects to local farming in Ventura because it requires the use of water, a resource that is in short supply. Environmentalists claim that farming in arid regions adds salt to the ground ruining it for plants and animals. The amount of resources used to ship locally grown foods also causes pollution. According to environmentalist Winthrop staples, there is no such thing as "sustainable farming" because all farming robs something from the environment. "The best the environmentalist and economist can hope for (if they like to eat), is local regions feeding local communities. Hopefully organic farming being the baseline, says McGrath."