Editor:
Past Ventura City Councils decisions have cost the Ventura citizens millions. Measure O is a question of trusting this City Council and future City Councils with another $270,000,000 in new tax money.
Brooks Institute closed its school, leaving students, contractors and landlords high and dry.  While the City hopes someone will step up, the schools liabilities exceed its assets. The fact remains that besides students, instructors and vendors, there are unpaid rents, deposits and subcontractors left out in the cold. The loss is likely over $1.0 million.
That brings up some major questions. Who approved this move without collecting all funds required? Were there any guarantees for payment in the event of default? Who did the due diligence of understanding the schools financial capability to enter into a lease? Was the City Council just "starry eyed" at the thought of bringing in a tenant that they didn't ask the hard questions? Will other creditors see the City of Ventura as a 'deep pocket' resource for payment? When hundreds of thousands of tax payers dollars are lost, does the City see these funds as 'their own budgetary funds' or as tax payer's funds, meaning that they have lost your money? Does the City Council just feel this is the risk of doing business or does the City Council just see this as another reason to ask the citizens for more taxes? What will the legal costs be?
Now this City Council has the nerve to ask for more tax money and wants the citizens of Ventura to trust them. They have just answered that question for themselves. They do not operate with the due diligence required for making fiscally responsible decisions.
As a call to action, resignations should start at the City Council level, along with a citizen's investigation committee.
Robert Alviani
VREG Chair
---
Dear Sheldon,
Thank you for your in-kind donation to the Community Memorial Healthcare Foundation's Motion by the Ocean.  Through the generosity of donors like you, we are able to support the building of the new Community Memorial Hospital.  Our hospital's future is enriched by your generosity, and helps us address the needs of families, friends and neighbors throughout Ventura County.
Thank you for your support of Motion by the Ocean, Community Memorial Healthcare Foundation.
With gratitude,
Debbie Golden and Carolyn Tedesco
---
Breeze: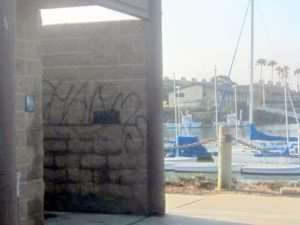 The Marina Park bathrooms were tagged between 10am Saturday and 9am Sunday when I cycled by.  Given that the tagging was done within about 10 feet of both video surveillance cameras, I would hope that the police could pull the footage to determine who the culprits were.  It would be great if photos could be posted on Pierpont's and the Keys Nextdoor.com sites so that we could assist in identifying/catching these individuals.
George Robertson
---
Sheldon,
Thank you so much for the nice photos of the Faulkner House and the Dudley House. You went above and beyond what I expected. To receive these photos of Victorian houses, which are of interest to me, was a special gift to me and very much appreciated.
Yolanda Soto
---
What this country needs are  more unemployed politicians
~ Edward Langley