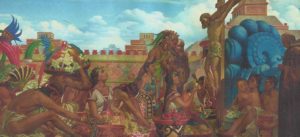 Mission San Buenaventura will present a special art exhibit from August 6 through November 5,  a trilogy titled "El Camino Real" by late artist and architect Aurelio G. D. Mendoza.
Three large mural-like oil paintings depict the conversion of the indigenous people in Mexico; another depicting Fray Junipero Serra directing his companions forward on their travels; and the third painting depicting the construction of the first mission in Alta California, Misión San Diego de Alcala. Fray Junipero Serra founded the first nine of the famed 21 California missions.
In honor of St. Junipero Serra, the first Hispanic saint to be canonized (September 23, 2015) on American soil, the exhibit will be on display to the public in the Mission San Buenaventura Gift Shop, 225 E. Main St.  The Gift Shop is open daily from 10 a.m. to 5 p.m.  There is a nominal fee to tour the Mission Museum, Gardens and Church.