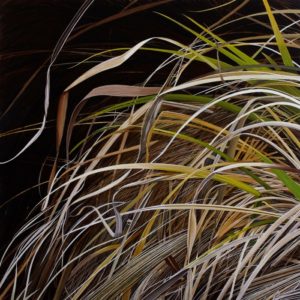 An evening with Karen Kitchel Saturday August 6, from 5:30 to 7:00 p.m.
Brooks Institute Screening Room
5301 N. Ventura Ave.
A Spotlight Interview with Karen Kitchel . Karen Kitchel's landscapes are definitely not traditional. Of her work Karen states: "I paint them with the traditional craftsmanship of the genre's past, and a critical eye on the geography of the present."   She narrows her focus to a small patch of dried grasses or what you may always have considered just plain weeds.  In isolation we see their architecture, we sense the brittleness of leaves, the wonderfully chaotic arrangement of stems and leaves.  Karen earned her BA in Art at Kalamazoo College and MFA in painting at Claremont Graduate School.  She exhibits throughout the country and is widely collected.  Reserve your seat today for an opportunity to learn more about a painter who is engaged in an ongoing dialogue with the land.
Free to FOTM Members – $10 General public, $5 students and seniors.
Tickets available online at:  www.FocusOnTheMasters.com or call 653.2501
To learn about Karen Kitchel visit www.KarenKitchel.com