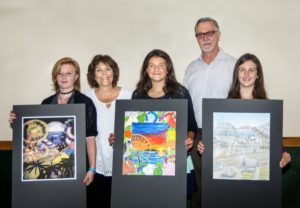 A formal presentation was made to the Ventura County Fair Poster Contest winners at the Fair offices. The contest was open to County youth in grades 5 – 12.
Pictured are first place winner Madison Lomis, 16 years old  Ventura,  Barbara Quaid  CEO Ventura County Fairgrounds, second place winner Anna Sorensen, 12 years old  Simi Valley,  James Lockwood Fairgrounds Public Relations and Marketing Director and third place winner Carys Garvey, 13 years old Ventura.
The Contest was held in the spring and the winners were chosen from an entry pool of 38 works of art.  All of the Poster Contest entries will be displayed in the Youth Expo at the 2016 Ventura County Fair. All of the children who entered the contest received 2 tickets to the fair and will be invited to ride on a float in the Ventura County Fair Parade on Saturday, August 6.