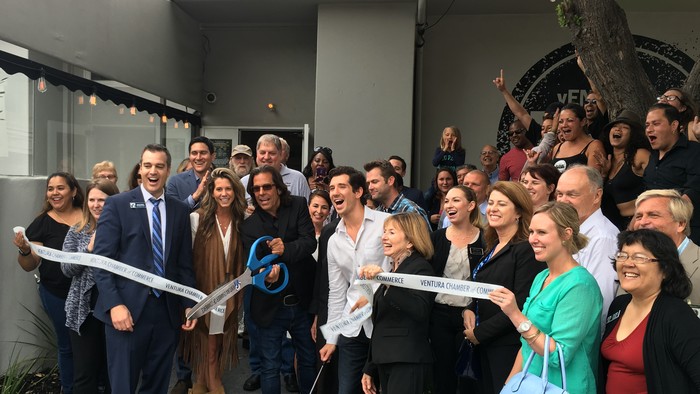 Co-owner Executive Chef Dean Angelo (holding the scissors) is joined by co-owner Rani John (on his left) at the official ribbon-cutting of the restaurant NOW Ventura held on June 23. Not shown is co-owner Michael Anthony. Joining them was Ventura City Councilmember Cheryl Heitmann, many friends and well-wishers and Ventura Chamber members and staff. This brand new venue,  which actually opened Dec 2, is the brainchild of the trio of entrepreneurs
When asked why Ventura Rani John stated "This city was listed as the number one place to live in the U.S. and the three of us liked what we saw here—ocean, beautiful weather and friendly people. We're all settling here with our families. We love this place and want to provide something special for the city."
The goal of the new managers in designing the setting is to create a place that is cool, upscale and sophisticated, punctuated with music of many genres.
NOW Ventura has two outdoor dining areas (dog friendly) and a large room for holding special events and is available for catering as well.
The restaurant is located at 185 E. Santa Clara St.,  667-2200, http://www.nowventura.com.