by Jen Livia
On Saturday, July 16, 6 – 8pm, Fox Fine Jewelry will host an Art Reception and a fundraiser for the Family Reconnection Program. Neighbor Gallery V will host a Book Signing and Music Event on July 16 from 6 – 7pm.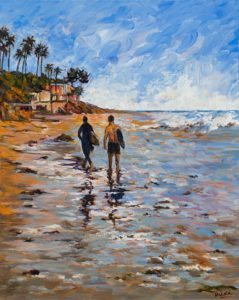 Jen Livia and Hilda Kilpatrick-Freyre will display their art in a show titled "Local Color" at Fox Fine Jewelry through September 11, 2016. Strolling magician Kris Sheppard, Magic Castle member, and George Spike, musician, will perform during the reception on July 16th, 6 – 8pm.
The Downtown Ventura Partners' Family Reconnection Program provides free transportation for homeless individuals wishing to connect with a family member. In just four years, the program has reconnected over 100 people at an average cost of $200 each (http://downtownventura.org/reconnection).
Raffle tickets are available for art from the artists, and the grand prize of a Fox Fine Jewelry $1,800 14kt .55ctw diamond ring. Raffle tickets and donations are available online at http://squ.re/29gX6Td or at the event. Fox Fine Jewelry is located at 560 East Main Street, in downtown Ventura,