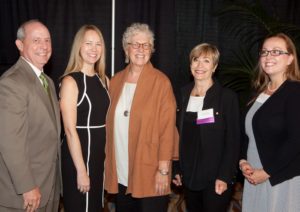 Nearly 300 women and men attended non-profit Women's Economic Ventures' (WEV) annual Empowerment is Priceless event held on May 12th at the Crowne Plaza Ventura Beach Hotel. The breakfast fundraiser recognized WEV's 2016 Trailblazer, Business of the Year and Volunteer of the Year award winners. WEV clients also shared their personal experiences as entrepreneurs and how their businesses have evolved as a result of their involvement with WEV.
WEV's Trailblazer Award is presented each year to a woman who is a pioneer in her industry, exemplifying courage, vision and the tenacity to overcome barriers. This year, WEV honored Kate McLean, former president of the Ventura County Community Foundation and a leading advocate for social good in the Ventura community.
The 2016 WEV Business of the Year award went to Reyna Chavez, owner of Scrubs on the Run Uniforms and Accessories, Inc., one of the region's only providers of high-quality scrub uniforms and accessories for medical professionals.