Yoshi's career path into the restaurant business was "almost like an accident." Photo by Zach Frankart
by Jenny Guy
Yoshi Namiki, owner of Palermo Pizzeria in Ventura, says his career path into the restaurant business was "almost like an accident." Namiki came to California when he was 14, moving from Japan after his father, a mechanical engineer, took a position in Northridge –– and decided to call Simi Valley home. Fluent in both English and Japanese, Namiki held a career in computer sciences with an international company until he was 40.
After losing his job, he found himself headed toward bankruptcy. With a family of his own and no prospects, Namiki stumbled upon an opportunity to go into business for himself. He purchased a small deli in Simi Valley called Simi Sam's Sandwich Factory –– one of the oldest delis in the region. Solely self-taught without any prior restaurant experience, Namiki chose to maintain the authenticity of the sandwich shop and kept many of the previous owner's original recipes. This on-the-job training allowed him to develop his own culinary skills, and the gamble eventually paid off. The restaurant business has never been an easy sector of work to get into, which is why many aspiring restaurants never quite make it. While efforts can be made simpler by using a service such as QSR accounting to ensure that the books are properly managed, it is genuinely difficult to create a restaurant business that is both successful and sustainable.
Namiki sold Simi Sam's to his brother and became the sole proprietor of the Italian Simi Valley staple Palermo Pizzeria. Seeing this new enterprise as an opportunity to make the restaurant his own, Namiki did a complete overhaul of the inherited menu. He spent months testing ingredients to find the perfect combinations –– placing special significance on perfecting his sauces.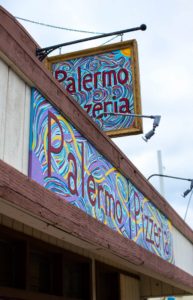 On August 23, 2010, Namiki reopened the restaurant. He introduced new dishes under the Palermo Pizzeria name as a tribute to the original owners, the Cascio family, who established the restaurant in 1972. After two years of managing Palermo Pizzeria in Simi Valley, Namiki, a surfer, felt drawn to Ventura to be closer to the water. Two years to the day that Namiki had purchased the first Simi Valley location, August 23, 2012, Palermo Pizzeria was founded in Ventura.
The Ventura Palermo Pizzeria has since gained a following of local supporters for its fresh ingredients and meals made from scratch. The pizza dough is made onsite daily, all pasta sauces and salad dressings are homemade, and Namiki personally visits the market each morning (seven days a week) to handpick produce for Palermo Pizzeria's salads and toppings. The results of these efforts are delicious dishes ranging from vibrant salads and flavorful soups to Italian classics like spaghetti and meatballs.
Located in Midtown Ventura at 1751 East Main Street, Palermo Pizzeria has a customer base estimated at 90 percent locals, and Namiki has come to know most by name. Palermo Pizzeria caters to its following, providing local favorites such as Surf Brewery beer and Panaro Brothers wine. The 1,500-square-foot establishment also houses a wide selection of art from Ventura native Scott O'Connor, who gifted Namiki with the restaurant's one-of-kind signboard.
"When people come here, I want them to laugh and have fun. If I am, they will. And if I like it, chances are my guests will too," said Namiki, a husband and father of two who now lives just across the street from Palermo Pizzeria in Ventura.
Both Palermo Pizzeria's Simi Valley and the Ventura locations are open for business Monday through Sunday, more information can be found at www.palermos.biz.
Jenny Guy is the director of communications for Mustang Marketing and a resident of the City of Ventura.