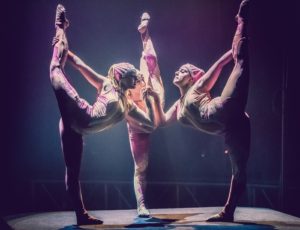 Owned and operated by a talented young couple who together with their immediate and extended family have managed to produce some of the most incredible productions in live family entertainment in generations, all under the Big Top!
Every member of the family is involved in the day to day operations of the circus and together they function like a well-oiled machine. From the most veteran member of the family to the youngest child everyone works together.
A small self-contained city on wheels, they travel from town to town, yet always manage to keep some semblance of stability and continuity. Laid out across whatever parking lot or grass field the Big Top calls home that week, the setup is almost always the same. "We are our own little community. We have the same neighbors in each town. The trailers are parked in the exact same spots relative to the Big Top, so the environment is always familiar. You feel at home even in a place you've never been to before"  Katya Quiroga, Co- Owner-Producer along with husband Nelson.
The Quiroga family has 4 generations of its own traveling with Circus Vargas. Add to that the many other performers from all over the world along with their families and you'll understand why no one is ever lonely and certainly never bored. There are more than 20 children and teenagers at Circus Vargas and they have constant supervision. "There is always someone's grandmother, father, mother, brother or aunt around," laughs Katya, "so not much chance for anyone to misbehave and we are very big on respecting our elders"
Circus Vargas host, Jon Weiss, who travels with his wife and 3 children says it best. "The circus is a family in the sense that we feel responsible for each other. There is a tremendous respect you have for each other that doesn't come from any other kind of job. Sometimes you literally have each other's lives in your hands. We work together. We play together. We have barbeques, birthdays and baby showers. There is a kinship and sense of  community."
It is only fitting that with so much togetherness, these friendships foster a deep respect and camaraderie that cultivates into sincere affection that is felt under the big top. They care about each other. Not only while they are performing but behind the scenes, as well.