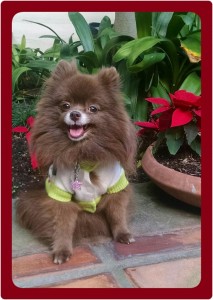 •  SPAN is paying for all but $10 a pet on April 21 for spay and neuter in their parking lot at 110 N. Olive behind Vons. Valley Vet Nonprofit of Simi is bringing their mobile unit and doing surgeries. This is
their last one till June as it does get expensive for the thrift store to pay for that for take advantage of this.
•   Founded in 2009, The Forgotten Dog Foundation is a Los Angeles-based non-profit organization comprised largely of dedicated volunteers who rescue dogs simply for the love of animals, especially those who are forgotten. Combined, the group have rescued well over two thousand dogs. Once saved, each dog gets the medical care they need, are groomed and then cared for in foster homes, and are never housed in caged facilities. An application, home check and one week trial is required before any foundation dog is adopted into a forever home.
As a 501(c)3 foundation, TFD is dedicated to rescuing, re-homing, and rehabilitating dogs in need from the streets and shelters, and from owners who can no longer care for their dogs.
For more information, please visit www.theforgottendog.org, and be sure to follow The Forgotten Dog on Facebook, Twitter, and Instagram.
•   By my friend Victoria Usher
A police dog recently helped catch two suspects in the San Diego area known as Oceanside. The pursuit all began when the police attempted to pull the suspects over for a traffic violation, but then the driver decided to leave the passenger in the car and start running. He ran to a portable outhouse in a strawberry field and then he hid in there. A San Diego County sheriff's deputy and his dog responded to the call when this all first began. The dog was  able to find where the suspect was hiding after he  refused to leave the outhouse, the dog forced him out. The police say that both of the men in the car have been arrested and that two semi-automatic pistols and a shotgun were seized. I think it's fair to say that the police dog definitely saved the day!
•   The Gurney Institute of Animal Communication introductory Animal Communication Workshop
Is April 30 and May 1. Hosted by Ventura Pet Wellness and Dog Training Center at 3521 Arundell Circle.
Saturday • 10am to 5pm- During this six-hour workshop, you will learn the basics of telepathic communication, first with each other and then with animals. Carol Gurney guides you through a series of fun exercises .
Sunday • 10am to 5pm  During the second day of this workshop, you will learn to communicate with animals from a distance, enhancing your communication skills with animals, do exercises to improve your overall intuitive skills, and learn basic problem solving techniques.  You will have the opportunity to have other students speak with your own animals using photos of your animals while you experience speaking with their animals.
For further information call 818-597-1154, [email protected], www.GurneyInstitute.org
•   I found this from 1866 from Washington, DC. Didn't have room in last issue.
Dogs, Cats, and Other Domesticated Animals.
(a) Presence in State Capitol Park. Dogs, cats, and other domesticated animals are prohibited in State Capitol Park, for other than official or authorized purposes, except when held by the custodians thereof, or on a leash. Unleashed dogs or cats, and other domesticated animals shall be subject to impounding in a manner consistent with the applicable municipal, county and state laws and ordinances.
(b) Presence In or Upon State Property. Dogs, cats, and other domesticated animals are prohibited in state buildings and grounds, except:
(1) Specially trained guide dogs, signal dogs, or service dogs used exclusively to assist blind, deaf, or other disabled persons. For purposes of the chapter, guide dog, signal dog and service dogs means any dog which meets the criteria as defined under federal regulations adopted to implement Title III of the Americans with Disabilities Act of 1990.
(2) Animals held or leashed as described in paragraph (a) within the confines of State Capitol Park or other state grounds.
(3) Animals which are authorized for exhibit or used for official or authorized purposes.
Note: Authority cited: Section 14685, Government Code. Reference: Section 14685(c), Government Code.
•   As part of the Ventura Botanical Garden master plan, a new entrance is being built at the Garden trailhead. Bryce Kulzer is working on her Girl Scout Gold Award by working on putting in a drinking fountain for dogs on the trails.
Bryce stated "I have two dogs, Baxter and Clare, that I love taking for walks up the trail. I think having a fountain for dogs would be very beneficial and a meaningful way to help dogs, dog owners and my community. I have found an ideal portable drinking fountain for dogs. It will be located near the greeter table at the entrance."
"The long term plan is for a permanent fountain, but that will need to wait until there is a water irrigation supply. I would like to ask for donations that will help contribute toward buying the new dog fountain."
"Any help is appreciated! Additional funds received will help support dog signage at the Gardens, which is also part of the master plan. If you could make a small donation towards this, it would be great for my project and the Gardens. Thanks for your support!"
What a great kid. It's easy to make a donation at VenturaBotanicalGardens.com.