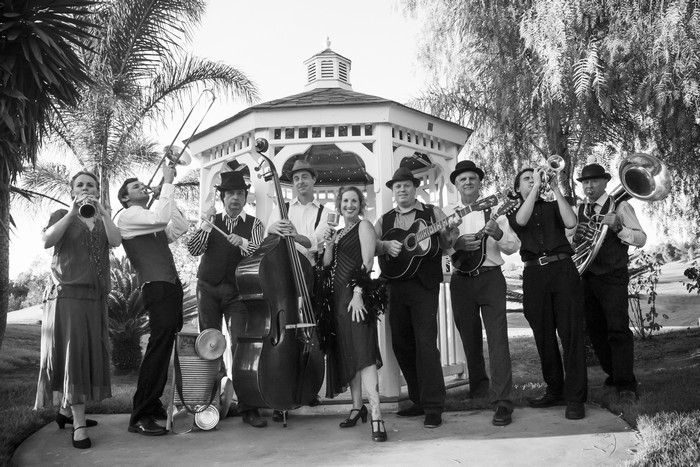 Ventura Rockin' 150 Years!!!
By Pam Baumgardner
VenturaRocks.com
Ventura certainly rocks, and it's been officially rocking for 150 years as of April 2, 2016.  In honor of its major milestone, The City is celebrating with a free family fair and picnic at Plaza Park.  Along with carnival games, activity booths, races and contests, an historic treasure hunt and a truly affordable old fashioned-barbecue, there will be live music with The Swilly's, Ventura Jazz Orchestra Sextet featuring the vocal stylings of Donna Greene, The Barrelhouse Wailers and the Mighty Cash Cats.
And then, in conjunction with celebrating The City's 150th anniversary, Ventura Education Partnerships will feature a concert with hometown heroes, Big Bad Voodoo Daddy at Mission Park. Tickets range from $25 and up to benefit music and arts in our schools.
Robert Ramirez and Michelle Votrian just returned from SxSW (annual music festival and conference in Austin, TX), so I asked Ramirez what made them decide to make the trek and he told me, "With friends out there, we just needed a show. Then we were invited to perform at Leeann Atherton's Full Moon Barndance which is considered by the locals, the unofficial close to SxSW and a tradition, with non-stop music and food for 8 hours; it's the place to be on Sunday. Every artist and band that played was a working band, some from Austin, some touring and some from Europe and Australia. Except us!"
The other evening, I dropped into Squashed Grapes to catch Mark Schulman's set; he had put on an inspirational drum clinic in conjunction with Pulse Drumming before the show. Schulman is currently Cher's drummer and has toured with Pink and others. He brought with him Eva Gardner on bass (Pink, Mars Volta, Cher) and Julian Coryell (Alanis Morissette, Carole King, Jewel) on guitar and vocals. The house was rockin' a tad bit more than usual and I have to say, I thoroughly enjoyed it!  In April, make plans to catch the return of Doug Webb with Danny Carrey of TOOL on April 2, drummer Joey Heredia (Stevie Wonder, Sheila E, Sergio Mendez) on April 16, Sandra Booker (Harry Connick Jr is quoted as saying, "her voice was made for jazz.) on April 23 and Frank Potenza and Friends return on April 30.
And staying with jazz for just a bit, the California Jazz & Wine Fest will be held on April 17th at the Four Seasons Hotel in Westlake Village with the Tom Scott Quintet, Doug Webb Group and several of our local musicians including the Barrelhouse Wailers.
There will be a benefit concert for the Mare Louise Foundation on April 9 at Sandbox Coffeehouse featuring local artists, Marianne Turner, Xocoyotzin Moraza and Devin Johnson.
And finally for rap fans, don't miss Tyler the Creator at the Ventura Theater on April 2.
Do you have any music related news or upcoming shows you want help publicizing?  Send all information short or long to  [email protected], and for updated music listings daily, go to www.VenturaRocks.com.