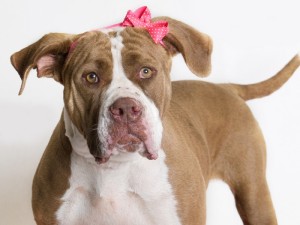 What a sweet, good girl Callie is. She loves walks, treats and toys, especially her tug toy. She is affectionate and social and our volunteers report that she's easy to handle and walks nicely on a leash. Callie loves having the undivided attention of her person, so she would like to be the only dog in your home. This would make her so happy because it would allow her to have you all to herself! Come meet this lady who's been called "pleasure" to be with. Ventura County Animal Services Camarillo location – 600 Aviation Drive
---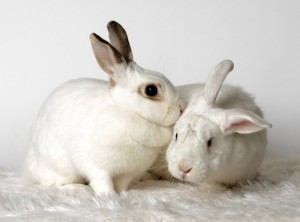 Adoptable Luna is whispering an important message to her best friend, Prince: live rabbits, chicks and other animals are not Easter toys or gifts. Prince agrees, and he wants everyone to remember that rabbits are an 8- to 12-year commitment requiring daily care.
Easter is for one day, but pets are for life. Ventura County Animal Services urges families to choose chocolate or plush gifts instead. The agency is committed to ending the cycle of impulse rabbit purchases and subsequent abandonments that occur each spring.
In the weeks leading up to Easter, VCAS turns its focus towards public education and outreach about rabbit care and commitment rather than promoting adoptions. Those interested in a house rabbit are invited to visit VCAS at 600 Aviation Drive in Camarillo to learn more about proper bunny care, determine if a rabbit is right for their home, and then return to the shelter after Easter to adopt a rabbit in need. Visit tinyurl.com/princeluna to see Bunny Ambassadors Luna and Prince in action.
---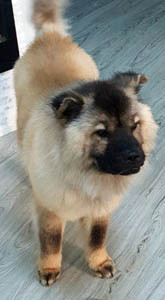 Hi: I'm Chato a very handsome looking 3 1/2 year old Chow, just look at the picture my foster mom took of me. I was a ranch dog for 3 years and although I am great with other dogs, I am quite shy of people. I'm lucky to be in a foster home where my foster mom reports that I am making progress every day, and I'm a model dog in the home. I have evolved quickly to being out and about amongst people and in 3 weeks have gone from hiding in the corner and not looking at my foster parents to sleeping on their bed and following my foster mom from room to room.
If you would like to see my progress and beauty (My foster mom says I'm very photogenic.) or want to smile every day by seeing my latest adventures, please check out my Facebook page that my foster mom created just for me! www.facebook.com/AdoptChato
I'm so grateful to have foster parents who are so patient and loving who have been able to bring out the warm loving Chow that I know that I can be.