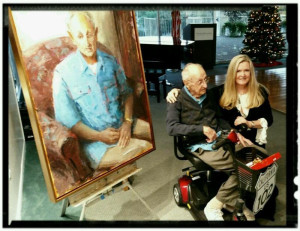 "Going Under The Knife" by Johanna Spinks an exploration of palette knife portraiture will be at the Museum of Ventura County Tool Room Gallery at the Bell Arts Factory (432 N. Ventura Ave.)
Opening night, First Friday April 1st, 6-9pm
And viewing by  appointment by calling 310.384. 7029.
Just over two years ago, award-winning portrait artist Johanna Spinks decided to take a risk with her familiar paint brush: putting it down. In its place, she picked up a palette knife and began using the metal artist's tool for her private, non-commissioned work in order to paint the people around her. Her upcoming curated show at the Museum of Ventura County's Tool Room Gallery, entitled "Going Under the Knife," is sampling of this palette knife work. Johanna's mentor and seven-time presidential portrait painter Everett Raymond Kinstler, N.A. describes her palette knife portrait work as "a refreshing departure and journey into creative portraiture".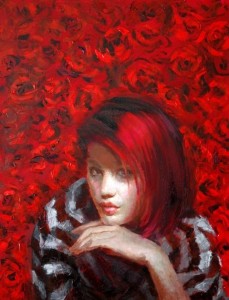 Included in the show will be a large portrait of Ventura scientist and philanthropist 102 years'-young Howard Boroughs which was recently accepted into the permanent collection of the Museum of Ventura County. Johanna painted Howard in five life sittings an experience she holds most dear.
Johanna's portraits have been featured many times in the Ventura Breeze. www.johannaspinks.com