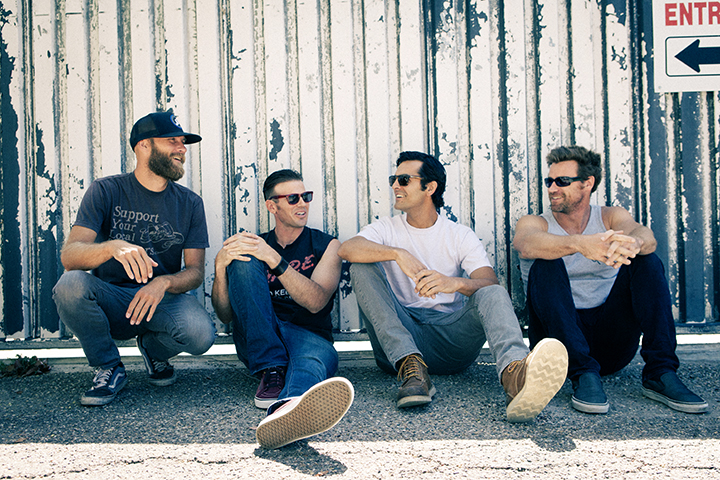 The Winchester Rebels open for Puddle of Mudd at Discovery March 5.
Ventura Rocks!
By Pam Baumgardner
VenturaRocks.com
I'm looking forward to the Puddle of Mudd show coming up at Discovery on Saturday, March 5, word has it former bass player Michael Anthony and restaurateur of Now Ventura will sit in for a few songs. Let's hope singer Wes Scantlin is on his best behavior and keeps it together and keeps it live. To kick off the evening, one of my favorite Santa Barbara rock bands, The Winchester Rebels will warm up the house so be sure to get there early enough to catch both acts.
You know the party will be off the hook at Bombays when Hy Brasil performs while celebrating their bass player, Shawn Echevarria's birthday on Friday, March 11.  The Pullmen will open with a special performance from San Diego's Mrkts.
Rebulation returns to Ventura for back to back shows at the Majestic Ventura Theater on March 12 and 13. Why two nights? Because they always pack 'em in!
The 10th annual Ventura Music Festival Jazz Competition takes place at the Pierpont Inn on Sunday, March 13 at 1 am.  Get out and support up and coming young jazz musicians.  This event is free to the public.
Tickets have been selling briskly for the Big Bad Voodoo Daddy fundraiser concert in conjunction with the 150th anniversary celebration of the City of Ventura.  All proceeds support art and music programs for Ventura's Unified school district students. Be sure to secure your tickets and help keep music in our schools.  Go to CelebrateVentura.org for more information on how to get your tickets online. They're also available at VSUD school sites.
Hi Hat Entertainment brings back the Forty Fours to the Ventura Beach Club on Friday, March 11 featuring Johnny Main, Mike Hightower and Jason Lozano. The band features killer Blues-Rock-Roots music sure to keep the dance floor filled to capacity.
Ventura's punk scene continues to thrive, The Dickies, Ill Repute show at the Garage sold out. More shows have been popping up between The Garage, The Red Cove, Sans Souci and Bombay's. You can get the low down at VenturaRocks.com which has you covered Punk to Jazz.
Speaking of which, VenturaRocks.com celebrates its anniversary this month servicing the music community in Ventura for the past seven years; it is the best online resource for keeping up on where to find live music.
Do you have any music related news or upcoming shows you want help publicizing?  Send all information short or long to  [email protected], and for updated music listings daily, go to www.VenturaRocks.com.