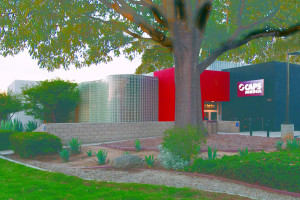 By Elizabeth Rodeno
February and March seem to be chock full of exciting events, new and old.  The city is buzzing like an active hive. The launch into it is the Festival of Talent, an amazing show with amazing kids doing amazing stuff. Amazing, huh? This year as every year, the CAPS mobile truck with its cutting edge equipment, staff and a well-trained team of volunteers set up a full production to record the show. These volunteers come from the student body of the VUSD schools and are thrilled to be part of the show. Whether in front of the camera or behind, there are stars everywhere.
We can't share enough about what we can do to help you and your organization. From tours with school children to high school news shows to event coverage of the annual awards for a notable non-profit to city council meeting and events, we provide the possibility for exposure and information about your organization. Ask any non-profit in the city from the Ventura Chamber, the VUSD, Ventura Police Dept.  Habitat for Humanity, Ventura County Fair, Project Understanding, and the St. Patrick's Day Parade hosted by the Elks Lodge 1430. The best way to share your story is by coming in, signing up, training in our free classes and producing your own video. As all of art is a work in progress, we are always delighted when one of our members develops skill through experience and their programs become more polished.  All of us, members and staff, are always learning.
As CAPS Media grows and evolves, what we offer expands. Soon we will be offering more comprehensive classes, injecting some of what we teach in our youth programs and including our new radio station training program we hope to launch soon after we go on the air. The first hill to climb is to fund the station where we will let you share your voice. Radio is an exciting place to be. It is the number one place to go for information. We spend a lot of time in our cars and will be able to go to CAPS Radio to get a taste of Ventura.
Check out our new website with all the info you need to sign up, reserve your space in a class and catch not only the CAPS Media productions on Vimeo but watch the channels live streaming from your computer. Go to www.CAPSMedia.org. Thanks to Donald who has work diligently to create the new website.