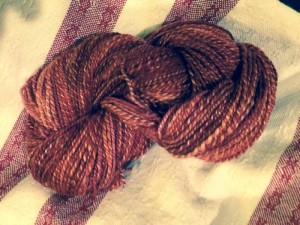 Focus on the Masters popular Artist Spotlight Series will introduce two members of the Ventura County Handweavers & Spinners Guild, Rich Deppe and Carl Friedlander at their next Artist Spotlight interview on Sunday, March 6 at 4:00 p.m. at Brooks Institute (5301 N. Ventura Ave.)  Each of these fabric artists comes to his work on different paths.  Each has a story to tell.
Rich Deppe's involvement in fiber arts dates to his early childhood, when his grandmother introduced him to knitting, at which he proved very adept.  His fascination with knitting disappeared by his teen years but re-surfaced some years ago.  He knits and weaves but for Rich the most interesting aspect of fiber art is spinning the fibers themselves.  Carl Friedlander, a retired computer scientist, is well-known for creating prayer shawls worn at Jewish religious services. His fiber art gene seems to have come from his maternal grandfather, a superb tailor.  Although Carl does weave beautiful yet utilitarian items such as table mats, runners, and material for clothing, it is his work as a man of faith that is perhaps most impressive.
Please join Focus on the Masters as Mary Galbraith, moderator, chats with these two artists.
Free to FOTM Members – $10 General public, $5 students and seniors.
AfterGLOW Fundraising Event:  Join for a celebratory supper hosted by Jo Ellen Lee and prepared by Old Broads Catering Company immediately following the interview at the FOTM Archive & Library, 505 Poli Street, Suite 405.  Maps will be given to paid guests at the interview.
The AfterGLOW is $25 for FOTM members, $35 for non-members.  Paid reservations are essential & required prior to March 6 for the AfterGLOW.  For RSVP & tickets visit:  FocusOnTheMasters.com or call 805.653.2501.
Tickets available online at:  www.FocusOnTheMasters.com or call 653.2501