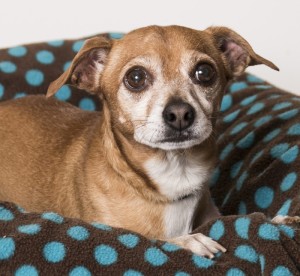 I'm Gordo my family brought me to the shelter to be euthanized because of injuries I sustained after being attacked by a dog. But thank goodness I landed at a No-Kill shelter! The medical staff at VCAS decided they could fix me up. I'm healed and adoptable now. I am so sweet that some of the volunteers used me as a model to show other volunteers how to handle doggies who are not so sweet. I was perfectly behaved and rested comfortable in one of the volunteer's arms while they finished the class. I like walks and am also happy to sit on your lap or just hang out with you. Ventura County Animal Services – Camarillo location – 600 Aviation Drive.
---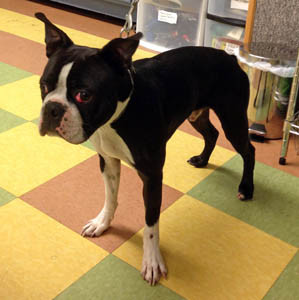 Hi: I'm Sulley an almost 2 year old gregarious Boston Terrier who enjoys playing ball, running around and antlers are my favorite thing to chew on. I'm in need of a new home because my owners say I fight with unfamiliar dogs I initially meet and have become a liability. Once I get to know the other dog I'm fine. As you can see in my picture I have a cherry eye that they don't want to pay to have fixed. They've given me 30 days to find a new home.
I'm good with older children, but it's unknown how I am around small children or cats. I will run out an open gate or door, but this can also be corrected with some training. I'm house and crate trained and know how to use a doggie door.
I just want to be a cherished member of a loving family with people who really want me and are willing to work with me. I'm willing and able to learn if you're willing to take the time to teach me. Could that be you?