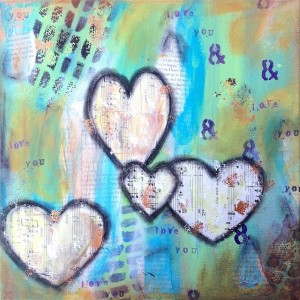 "Artist Mika Harmony's "Love in Full Bloom", solo exhibit will be featured at Capriccio Restaurant at 298 E. Main St. now through March 20th.
Being raised on Maui by two artistic parents influenced her love of all things creative. Mika's mother is a photographer/printmaker and her father is a songwriter, which is where the Harmony comes in.
Now calling Ventura home, Mika was inspired to create this series "Love in Full Bloom" while thinking of Spring and the feeling of music in her heart.
This mixed media series combines: antique sheet music, original painting, things with wings, Iconography elements, poetic phrases and hearts, on 12×12 canvas.
Mika has participated in juried national exhibitions at Bergamot Station, Santa Monica, Frameworks, Santa Barbara, Buenaventura Art Gallery in Ventura and San Louis Obispo Museum in San Louis Obispo as well as exhibited in galleries in California and Maui."