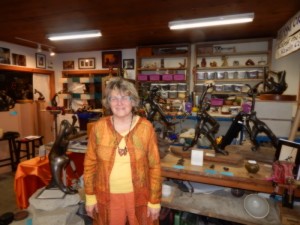 Local artist-sculpture Lynn Creighton has closed her gallery-studio Studio1317. She is still available at www.lynncreighton.com to see, and purchase her wonderful ecstatic female figures that she has been creating since 1990. Creighton's work has been exhibited nationally at museums and galleries from New York to California. Selected international exhibits include showings in Japan, France, and South Africa.
In describing her work she stated  "The figures in this gallery are experiencing the vibratory rate of their own life force. That vibration is the energy of the divine slowed down so that it may be seen.  It is the creative core at our center.  It contains the truth of our soul. I create the female form from a sacred source of  life, inspiration and commitment. This work has evolved from my deep inner conviction that female energy, fully aware of itself, will contribute essential wisdom to critical issues facing the planet."
You can meet Lynn at the Ventura Avenue Adult Center (550 N Ventura Ave.)  when the Potters' Guild presents  her on Monday February 22. Doors open at 7 pm and program begins at 7:45 pm. She will share her journey from potter to sculpture… featuring her flowing, modernist female figures that are both spiritual and sometimes playful in nature.