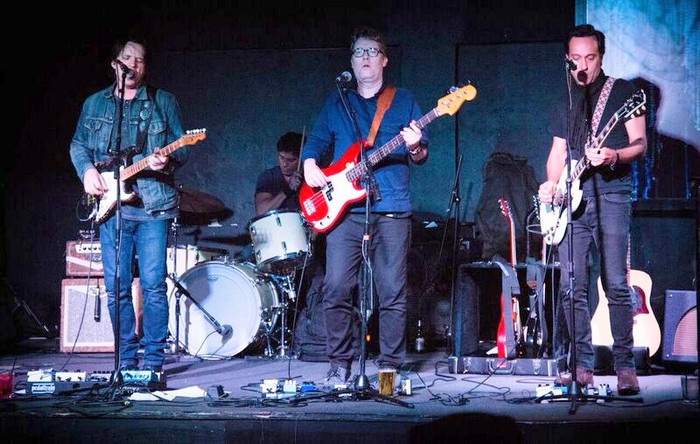 Ian Moore and the Lossy Coils at Bombay's. Photo by Cliff Montgomery
Rockin' February
By Pam Baumgardner
VenturaRocks.com
I was delighted to see that Ian Moore made a stop at Bombay's for his current tour with the Lossy Coils Wednesday, January 27th. We added Moore to our playlist back when I was Program Director of KXBS alternative rock radio in the 90s. Moore told me he's been self-managing for the past 12 years, but has three records done and ready for release the first one called "Strange Days".  Moore told me, "It's a departure from what I have been doing for the last few years. It is funkier, and lyrically heavier, leaning in on rhythm."
Voices – Women in the Round was held at Bell Arts Factory on Saturday, January 30.  I spoke with Jim Rice of Bell Arts who told me the night was just perfect. It was one of those events where the audience is totally engaged and the performances were heart wrenchingly beautiful. The range of music from Bach to Otis Redding to original pieces by Andrea Landin, Donna Lynn Caskey, Kate Bokoles, Maliah Pena and Mare Louise were extremely well received.  Rice told me they're looking at having this be a regular series hopefully monthly before too long.
A last minute addition to the February calendar for Squashed Grapes is coming up on Tuesday, February 9 featuring members from the world famous Post Modern Jukebox.  This will also be the last opportunity to see them for a while before they set out on tour across the pond. Christina Gatti's amazing vocals will front the band which includes one of our very own Jacob Scesney who also tours with PMJ.
Expect an upbeat funky time when The Main Squeeze plays Discovery on Saturday, February 6. The band is produced by Randy Jackson well known American Idol judge. Discovery has also been offering a Starlight Swing night on Wednesdays with swing dance lessons and live music.
Front Street takes over the Sewer with some down low dirty gypsy blues on Friday, February 12 with two equally unique and fun bands, The Front Street Knuckle Draggers and D.on Darox and the Melody Joy Bakers.
The Hong Kong Inn will host the 2016 Cash Bash honoring the man in black's birthday with The Mighty Cash Cats, Jade Hendrix and Joe Billingiere. The festivities kick off Sunday, February 14 at 4 pm with no cover charge.
The Wine Rack has upped their entertainment by offering live music seven days a week.
And finally, the newest episode of Ventura Rocks on CAPS Media is now airing featuring Crooked Eye Tommy; you can get the schedule of when it airs next at www.capsmedia.org.
Do you have any music related news or upcoming shows you want help publicizing?  Send all information short or long to [email protected], and for updated music listings daily, go to www.VenturaRocks.com.