On Dec.29, at 3:12pm a resident working in his backyard was startled by popping sounds and a large head of smoke coming from his garage. The homeowner had an extinguisher and attempted to put out the blaze, but the fire moved quickly and was not extinguished.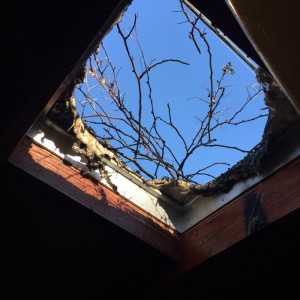 Ventura City Fire Firefighters responded to the home in the 2000 block of Channel Dr. in midtown and discovered a large Bougainvillea hedge had ignited on the roof of the structure and was burning into the roof structure. Firefighters arrived in four minutes, laddered the building, and extinguished the fire. Firefighters also searched other parts of the dwelling and the adjacent house to ensure the fire was just contained to the unattached garage. The fire burned through two skylights and ignited part of the roofing material, but the interior of the garage was checked with a thermal imaging camera, and it was evident the fire was solely contained to the roof.
Ventura Police provided for traffic control. The fire investigation revealed the flu from a cast iron stove that was being used to heat the garage, put out enough heat and sparks to catch the adjacent hedge on fire. Ventura Firefighters cleared debris and temporarily sealed the roof assembly until the homeowner could replace the skylights.