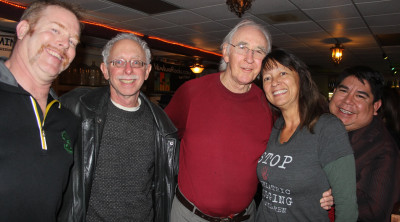 Ventura rocks another year!
By Pam Baumgardner
VenturaRocks.com
We're in the final stretch for 2015 and Ventura Rocks at CAPS Media is finally scheduled. The debut episode features Medicine Hat and will air several times including a Christmas evening broadcast at 8 pm. Go to Capstv.org/program-schedules for all air dates!
Nothing like being one degree of separation from Miles Davis, Dizzy Gillespie, Frank Sinatra and more; that's exactly what went down at Squashed Grapes when drummer extraordinaire, Colin Bailey, was in the house, Saturday, December 19.  Mr. Bailey has not only played with the cream of the crop but he was also the drummer for the Charlie Brown Christmas special. Bam!
And just one final note before we move on from Christmas, giving the gift of music is always a treat, especially when you're supporting local artists and picking up music such as Tommy Marsh's Crooked Eye Tommy, Butterflies & Snakes; Medicine Hat's Whiskey and Waves; the self-titled The NaVaNaX; Honey Owl's Early Bird, The Barrelhouse Wailer's Last Call; Nathan McEuen's Side by Side, and so much more! Of course you can go to their websites or be old school and pick up a CD at Salzer's, Grady's, or Very Ventura where you'll find the VenturaRocks.com listening station.
Opening up recently in the former Zoey's location at 185 E. Santa Clara is Now Ventura featuring higher end Italian and Seafood fare. I went in and met Michael Anthony, one of the partners, and a former bassist for Puddle of Mudd (who are coming to Discovery in early March).  Michael gave me the low down on offering live music after they've renovated the stage; his vision includes two 45 minute sets Thursday through Saturday. I'll be keeping tabs and will get them listed as soon as the music is back, but meanwhile they'll be throwing a New Year's Eve Bash with William Rottman performing acoustic 80s and 90s covers.  Call 667-2200 for reservations and more information.
Ventura will most definitely be off the hook all over town with New Year's Eve parties, here are just some highlights:  The Dive Bar Messiahs at Amigo's Surf Cantina; Fido and DJ Philocybin at Bombay's; Big Adventure at Café Fiore; Spencer Fischer and DJ Lunatic at Discovery; Shawn Jones and Friends at Grapes and Hops; Action Down at The Keynote Lounge; 3 in the Morning, The Free and Natural Human Beings at Red Cove; DJ Logic at Rookees; DJ Spinobi at Sans Souci; Cross Cut at the Star Lounge; DJs will be featured at a NYE Masquerade Ball at The Tavern; Shaky Feelin', The Christopher Hawley Rollers, 9 Lives and more at the Ventura Beach Club; DJ Erok and DJ Ciera at the Watermark, The Ventura Jazz Collective at the Wine Rack and the biggest show of them all is WAR with Tierra at the Majestic Ventura Theater.
Do you have any music related news or upcoming shows you want help publicizing?  Send all information short or long to [email protected], and for updated music listings daily, go to www.VenturaRocks.com.