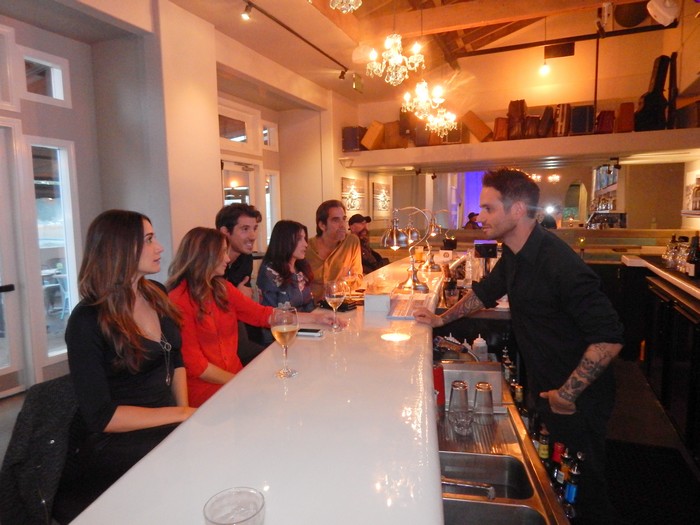 By Gail Field
This brand new venue, NOW Ventura, opened Dec 2, is the brainchild of a trio of entrepreneurs.  The trio consists of Executive Chef Dean Angelo, who hails from New Jersey and has long experience as a restaurateur at multiple venues in the east coast including restaurants Milan, Bizarros, Chaps, and Michaelangelo's.
Michael Anthony is the master mixologist from Los Angeles and more recently managing Lisa Vanderpump's restaurant "Pump" in West Hollywood where he worked together with partner Rani John to launch the celebrities' newest and highly anticipated hot spot.  Anthony's goal with NOW is to create a lounge environment where customers can relax and enjoy a variety of wines and specialty drinks.  Anthony and Angelo worked together for nearly twenty years on a variety of dining projects.
Rani John manages the marketing and operations of NOW and brings to the team his experience in Las Vegas promotions along with the opening of Pump in West Hollywood.  "I've always wanted to open a project like this," says John.  "It's great to do this with Mike and Dean who really know how to create great cuisine."
Why Ventura? "This city was listed as the number one place to live in the U.S. and the three of us liked what we saw here—ocean, beautiful weather and friendly people," says John.  "We're all settling here with our families. We love this place and want to provide something special for the city."
The goal of the new managers in designing the setting is to create a place that is cool, upscale and sophisticated, punctuated with music of many genres.  The trio completely refurbished the interior and exterior of the building, bringing a sense of modern sophistication in the design.  Angelo wants "to live in the now because the past is history, the future is a mystery, today is a gift and that's why they call it present…. NOW."
NOW Ventura offers great dining, featuring seafood and northern Italian dishes along with a hip atmosphere and a variety of musical selections.  The restaurant currently opens at 4 p.m. with Happy Hour and continues through until 10 p.m. Sunday through Thursday (closed Mondays), and until 2 a.m. Friday and Saturday.  NOW Ventura is available for catering at the customer's site as well, with the same great dishes.
Plans for the future include lunch during the week as well as a weekend brunch and live music.  John says, "If you want a cool, classy place to spend your evening, this is it!"
The restaurant is located at 185 E. Santa Clara St., Phone  667-2200, http://www.nowventura.com.