Photo by Bernie Goldstein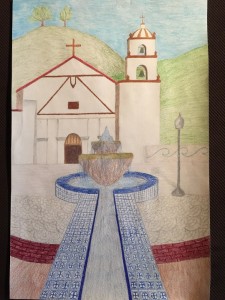 The winners of Ventura's 150th Anniversary poster contest were honored at a special presentation at the beginning of the City Council meeting held on November 16.
Upon presentation, the Mayor stated, "It is my pleasure to welcome and provide awards to eight local schoolchildren – the winners of the 150th Anniversary Poster Contest, organized and presented by the Friends of the Library, the Boys and Girls Club, and the Ventura Unified School District."
"As many of you know, our City turns 150 on April 2, 2016, and a group of dedicated community members have been working together to plan special events and programs to celebrate our wonderful and unique community."
"The Friends of the Library proposed the idea of a poster contest for our local schoolchildren at the first anniversary planning meeting, and working with the Boys and Girls Club, the School District, and the Ventura County Fair, the idea has come to life. "
Almost 70 children submitted posters. The posters will be on display at the Ventura County Fair in August, 2016. The Grand Prize Winner was Sachi Tan, a Senior, at Foothill Technology High School.