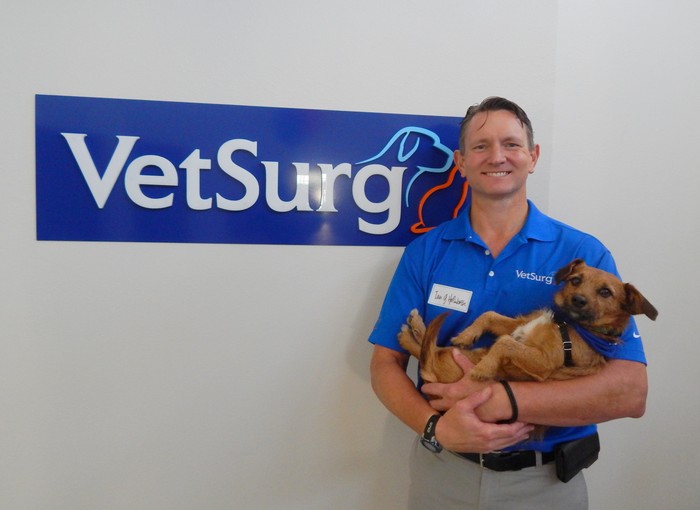 Dr. Holsworth is holding lucky Stewart the clinic dog who was rescued one day before he was to be euthanized.
Board certified veterinary surgeon, international surgical educator and active community member, Dr. Ian Gordon Holsworth BVSc MANZCVS (Surgery), Diplomate ACVS has opened VetSurg, a veterinary surgical hospital located in the heart of Ventura's Wellness District at 2859 Loma Vista Road. Dr. Holsworth brings over 25 years of surgical experience to the hospital, and along with his highly skilled and experienced team, is focused on improving the quality of veterinary surgical care for the Tri-counties and beyond.
The members of VetSurg have years working together servicing the referral needs of Ventura, Santa Barbara, San Luis Obispo, Kern and Los Angeles counties. The VetSurg hospital is equipped with state-of-the art surgical and imaging equipment allowing consultation, diagnostics and treatment of orthopedic, soft tissue, oncologic and neurological disorders. VetSurg also provides comprehensive overnight hospitalization for surgical patients to maintain the highest quality of patient care and to ensure no patient is left unattended following their procedure.
Dr. Holsworth, an Australian expatriate, has proudly called Ventura home for the past 12 years and lives in the Ventura midtown area close to the hospital. "Our VetSurg Team is immensely talented, well-trained, qualified and devoted to the health and well-being of our patients," stated Dr. Ian Gordon Holsworth. "We have dedicated our professional lives to restoring the health of our dog and cat patients and have built a surgical hospital where the quality of patient care will be matched by the quality of client care. We value the support from both our clients and the local veterinarians and intend to elevate the quality of veterinary surgical care available, establishing VetSurg as the surgical hospital of excellence for the Tri-county community."
VetSurg can be reached at 850-2180, www.VetSurg.com.