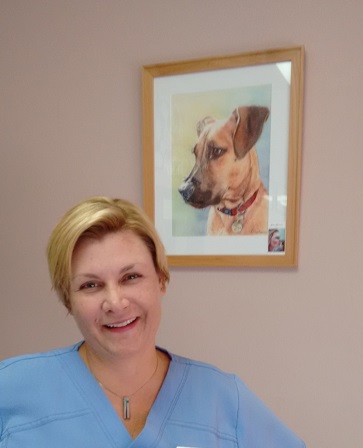 by Karen Helen Szatkowski
Established in 1981, East Ventura Animal Hospital has thrived these decades, "promoting responsible pet ownership, preventative health care and educational opportunities for their clients and employees" which is their core mission. Dr. Nancy Bohman, long with the hospital, brings her education and experience in Eastern medical therapies as an integrated option for her clients in preventative and curative veterinary care.
Dr. Nancy, with twenty years of practice, has recently been awarded the designation of Certified Veterinary Acupuncturist(CVA) and is further pursuing a certification in veterinary herbal therapies.  In acquiring the CVA designation she atteneded classes and lab work in Florida at the Chi Institute on a regular basis which demonstrates her commitment to the ancient practices.
TCVM or Traditional Chinese Veterinary Medicine can greatly improve the quality of life for our furry friends.  TCVM comprises acupuncture, herbal medicine and nutrition.  In many cases when a dog or cat is not improving on Western traditional therapy this can help.  Various ailments such as, severe arthritis, hip dysplasia, disk and back problems, skin disorders, autoimmune disease, kidney failure, seizures, cancer and inflammatory bowel disease can be helped.  Dr. Bohman evaluates each case as an individual, as the best way is to integrate both Western and Eastern medicine.
In speaking about her connection to Eastern medicine she frequently mentions the whole body and mind integration and how it applies to the higher animals as well as humans.  The Qi–pronounced Chee–can be talked about simply as "life force".  This concept is spread across many cultures and can be understood as a central underlying principle in Eastern medicinal and psychological thought.
She and the hospital staff are in the process of developing a "quiet room" that will further enhance the acupuncture and other alternative therapies.  Illness and injury can move more easily to resolution, she believes, through calm and quiet handling.  The reason for these options  is the commitment to provide as much in the way of medical care for her clients as possible–traditional care or East and West unified in veterinary health care.
Dr. Bohman lives locally and has two children. Her husband is Paul Bohman, D.D.S., a local oral surgeon.  The family owns a black lab, tabby cat, chinchilla, hamster, fish and two horses.  She enjoys the ocean, skiing and horseback riding.
East Ventura Animal Hospital, 10225 Telephone Rd. 647-8430  www.EastVenturaAnimalHospital.com.