Community Memorial Hospital is conducting tours of its new hospital on Friday afternoons. The tour is conducted by Michael G. Ellingson, CMHS Vice President Marketing & Development and assisted by Mary Schmitz, Ph.D., Director of Development.
This is the perfect time to see the construction before the final ceilings are installed. Seeing the  amazing amount of wires and lines that are required in a hospital is fascinating. You can also to have your many questions answered about the new facility.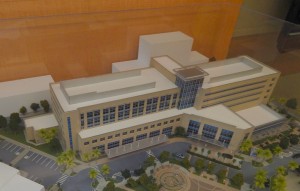 For example, did you know?
All rooms will be private.
It is scheduled to open near the end of 2016.
The new parking structure will be finished ahead of the hospital construction.
Emergency services will have 17 private rooms.
Access will be off of Main St.
Final decisions have not yet been made regarding the usage of the existing hospital.
The cafeteria will not be in the basement.
If you would like to participate in the community tour, send an email to hardhattours@cmhshealth.org.  Tours are limited to 15 people, so be sure to make a reservation.