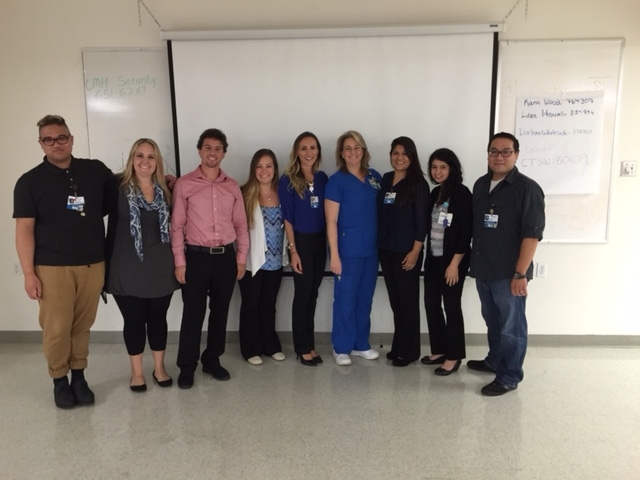 Standardizing care in local skilled nursing facilities was the goal of a two-day training program in which Community Memorial Health System nurses and other staff members participated on Sept. 22-23.
Nurses and staff members of the following local skilled nursing facilities also participated in the program, Victoria Care Center, Coastal View Healthcare Center, Ventura Convalescent Hospital, Camarillo Healthcare Center, Ojai Continuing Care Center, Glenwood Care Center, Providence Ojai Gardens and Shoreline Care Center.
Community Memorial Hospital has received the American Heart Association/American Stroke Association's Get With The Guidelines-Stroke Gold Plus Quality Achievement Award with Target: StrokeSM Honor Roll Elite. The award recognizes the hospital's commitment and success ensuring that stroke patients receive the most appropriate treatment according to nationally recognized, research-based guidelines based on the latest scientific evidence.
To receive the Gold Plus Quality Achievement Award, hospitals must achieve 85 percent or higher adherence to all Get With The Guidelines-Stroke achievement indicators for two or more consecutive 12-month periods and achieved 75 percent or higher compliance with five of eight Get With The Guidelines-Stroke Quality measures.
These quality measures are designed to help hospital teams provide the most up-to-date, evidence-based guidelines with the goal of speeding recovery and reducing death and disability for stroke patients.
Community Memorial Hospital has also met specific scientific guidelines as a Primary Stroke Center, featuring a comprehensive system for rapid diagnosis and treatment of stroke patients admitted to the emergency department.
For patients, Get With The Guidelines-Stroke uses the "teachable moment," the time soon after a patient has had a stroke, when they learn how to manage their risk factors while still in the hospital and recognize the F.A.S.T. warning signs of a stroke.
Community Memorial Health System has opened a Midtown Medical Group office in the Ventura, bringing healthcare to local residents.
The Midtown Medical Group – part of Community Memorial Health System – is a unique health center conveniently located in midtown, to serve the residents of Ventura while incorporating the training of the next generation of community physicians.
Midtown Medical Group is located at 2721 East Main Street, in Ventura. Office hours are Monday through Friday, from 8 a.m. to 5 p.m.
The office offers a comprehensive referral network of doctors and specialists and access to state-of-the-art healthcare technologies at Community Memorial Hospital in Ventura.
The office accepts most private and managed care insurance plans, including Seaview HMO. For an appointment, call 667-2841.
Physician and patient boundaries – Should your doctor be your friend? – will be the focus of a free Ethics in Healthcare event Community Memorial Health System is holding on Thursday Nov. 12 as part of the 2015 Speaker Series.
James Hornstein, M.D., chairman of the Bioethics Committee at Community Memorial Hospital, will moderate the panel discussion that will be held from 5:30 to 7 p.m. at the Museum of Ventura County, located at 100 E. Main St.
The presentations will explore some of the historical boundaries in the doctor-patient relationship that are meant to protect patient confidentiality, trust in the profession and avoid compromised clinical judgment.
Registration is free but reservations are required. Call 1-800/838-3006, or visit www.cmhshealth.org/rsvp.