Photos by John Ferritto
On November 6, The Ventura Family YMCA celebrated the grand opening of their 4,000 sq. ft. full-size outdoor basketball court, 1,700 sq. ft. outdoor workout space, and a 1,000 sq. ft. play area for their Children's Corner with a ribbon cutting ceremony.
Members had asked for more outdoor workout spaces and with the generosity of donors the Y was able to make this happen. Basketball competitions, giveaways, and activities for kids were just a few of the things at the celebration.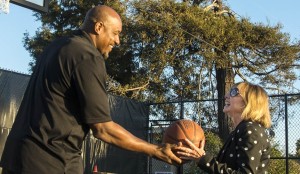 Other highlights of the new facility include high-tech synthetic flooring, open hours for all members to enjoy time outside, new high-intensity trainings, adult scrimmages, pickle ball, 3 on 3 basketball leagues, and even volleyball.
For 128-years the Ventura Y has been a leading non-profit and community resource for Ventura.  The significance of the new Sportsplex is the Y's response to the community's need for more outdoor program and workout spaces.
The Y is located at 3760 Telegraph Road.