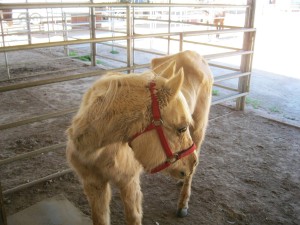 Dandy's weight was 570 pounds when it was seized, extremely underweight for a horse of his size.
•  A Simi Valley woman was sentenced in Ventura County Superior Court for the neglect and abuse of her horse. Two months prior she had been convicted of animal cruelty in connection with her lack of care for the horse.
Superior Court Judge Ryan Wright sentenced Ursula Wardzinski to 20 days in Ventura County Jail with no credits for her arrest on Oct. 6 and for a failure to appear for her prior sentencing date on Sept. 16. She also will have 36 months of probation and not be allowed to own animals for up to five years. In addition, Wardzinski will be required to pay restitution to the Humane Society of Ventura County. Wright also ordered the horse, named Dandy, relinquished to the care of the HSVC.
Twenty days? Hardly enough. Should have been 20 years.
•  The Board of the Conejo Rec & Park district is expected to approve turning three temporary off-leash dog areas in their parks to permanent status at their next meeting to be held on Nov. 5. The three parks are Walnut Grove, Estella and Kimber. The parks have been used for this purpose on a temporary use for six-months while noise and neighbors' concerns where addressed.
Now maybe Ventura can consider adding a few more off-leash parks here. We have one that has fenced off-leash areas (one for big dogs and one for smaller dogs) and one park that designates an area at certain hours to be off-leash. I certainly think that we need more of these. Marina Park has several large grass areas one of which could be used for this purpose. Especially since there have been some problems there with people allowing there dogs to be off-leash and not cleaning up after them.
•  I like to ask questions from my veterinarian friends. I asked Dr. Jennifer Kelly, DVM at Ohana Pet Hospital (www.ohanapethospital.com) the following.
Q. My human is thinking of getting another dog to keep me company. How can I be sure we'll get along (And they won't eat all of my food)?
A. It always interesting how dogs will get along because all dogs have different personalities. You will probably be happier if they get you a pal of the opposite sex. It would be great if your human could bring you to visit your possible new friend at the shelter to see how you like each other before taking it home. Your humans should give you plenty of extra love and attention to make you feel secure when they bring home the new dog.
Q. My dog neighbor always has to walk in a circle before she lays down.  Is that weird?
A. This habit was actually passed down the family tree from her undomesticated ancestors.  They didn't have a comfy doggy bed like you and your friend so they walked in small circles to create a bed in the tall grass.  It was also helpful to rid the area of any bugs or snakes hiding out (I always check around my bed first for snakes).
Q. I'm not crazy about getting shots. Do I need the Rabies vaccination every year?
A. I'm sure you got your first Rabies vaccine when you were 16 weeks old since that is required for all dogs by California State Law. That shot is good for only one year. However after that, you only need the Rabies vaccination every three years. Also, for all your cat friends there's a feline-exclusive Rabies vaccine they should have every year ( I'll be sure to pass this on the Savana).
•  From my friends at Paw's Corner. Hopefully it will start cooling off, I'm tired of the heat and humidity.
Dear Paw's Corner: Temperatures are really warming up now, and with it, I know, will come the annual onslaught of fleas on my dog, cat and all over my house. Is there any way I can get rid of fleas for good?
Flea infestations are incredibly annoying and tough to beat –even when you think fleas have been eradicated, they often come back. Winter temperatures often send these pests into dormancy or at least reduce their activity, but they return with a vengeance in spring and summer.
A pre-emptive attack could make a big difference in this summer's flea wars. While you may not notice adult fleas on your pets just yet, flea eggs or larvae may be present on their fur or throughout the house.
Start by talking to the veterinarian about the best treatment for your pets. Many owners swear by one-month topical treatments that are applied to the back of a dog or cat's neck, but others are leery due to potentially serious side effects. Consider alternatives if you're not sure.
Next, treat your home for fleas — using a carpet and upholstery treatment designed for both adult fleas and their eggs. You'll want to tackle not just the carpet and dusty corners of the house, but the furniture and any linens, such as curtains, that aren't frequently cleaned. Keep pets out of rooms until the treatment you're using has been vacuumed up or washed away.
Through the summer, brush your pets' coats daily, checking for fleas. Vacuum and dust at least once per week.