Dear Sheldon,
I am writing in response to your article in the Oct. 14 – 27 edition of the Ventura Breeze under "News & Notes" (p. 8), entitled " Celebrating a successful summer for tourism in Ventura!".
I love your publication; all I want to do is point out what I think is a math error.
The article states that, without the City of Ventura's $4.7 million Transit Occupancy Tax, each Ventura resident would have to spend an additional $2,400 in annual taxes to maintain the same level of services.
If you are using 100,000 as the number of Ventura residents, then the amount in tax that each resident would have had to pay would be $47.
And to get to the $2,400 number cited, there would need to be just 1,958 Ventura residents.
But if you wanted to state the amount of money that each Ventura resident would have had to spend to generate that tax amount, it would be $671 – assuming the sales tax rate was 7%.
However I admit that I am not an expert at math, so would appreciate a clarification of what your article meant to say.
Sincerely,
Kathryn Heiberg-Browning
Kathryn:
These numbers were misleading. Your math is just fine. The $2,400 is based upon the $261 million taxable items not the 4.7 million in taxes as stated ("without the funds collected through this tax") 4.7 million would be about $44 per person.
---
George Robertson
The day when thousands of visitors are on the beachfront for the 5K Color Run, vagrants, the mentally ill and lowlifes were out on the promenade and along the beachfront in abundance.  Bad for tourism.  Unsafe for our residents.  Ventura is simply not dealing with it.  I'm out there every day cycling.  It is pathetic that young mothers with babies in strollers, women joggers and the elderly like myself have to put up with this.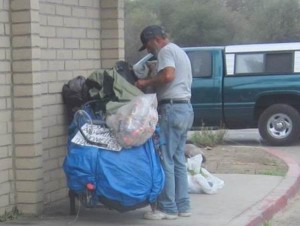 Dan Scully Sr.
This is difficult to deal with but there one is one aspect that can be handled easily… Overnight camping is illegal… All the Police Department has to do is patrol the lanes and correct the situation on the beach by removing these folks… I will never understand why this does not happen… Especially on Seaward where it is so Obvious.
---
Scamp:
In your last column Mindy Benezra  (regarding a photo fo puppies) had this to say. "The truth is, a litter of 8-9 Shih Tzu puppies are cute but not really and they are quite unnecessary as is every litter of puppies until we fix the problem of overpopulation of pets."
"Once the shelters are clear of homeless dogs, we can make more Shih Tzu puppies and then they will be cute. The only solution is  to teach our kids, they are the key to fixing this problem: the next generation, the ones who have learned about the tragedy of our homeless pets, and who are responsible and compassionate enough to be part of the solution( Spay and neuter) not the problem (more puppies)…"
She calls herself CABODOGZ because she goes to Cabo San Lucas, Mexico and brings back stray dogs that must go into shelters until they are adopted. Like she said we have lots of shelter dogs now so isn't she just adding to problem by bringing stray dogs into Ventura?
Thanks  Larry Dote
Mr. Dote:
I don't know where Mr. Dote got his information, but he seems to be misinformed on what Cabodogz is and what we do:
 First of all, I do not call myself Cabodogz.  Cabodogz is the non-profit rescue affiliate of our business Ventura Highway Luxury Boarding for Dogs. Secondly, we do not take stray dogs from Mexico. In 2010, we developed a relationship with the Los Cabos Humane Society, and began helping them place adoptable dogs, and yes…hence… the name Cabodogz…  Thirdly, Mr. Dote, no, we do not put the dogs we rescue into shelters.  We donate kennel space, food, veterinary and grooming care, etc. completely out of pocket.  We donate our time and energy to find them loving homes. We spend endless weekends at the Promenade and at Events with the dogs, pitching them in hopes of finding that special home. In early 2011, Cabodogz turned to our community and began rescuing dogs from local shelters such as SPARC and  Ventura County Animal Services.  We take in dogs that owners can no longer keep; we take in strays off the Avenue, we take in dogs that are dumped in front of our facility. In 5 years we have rescued and placed over 250 local dogs. Yes we still help our friends south of the border when we can. 
Cabodogz also promotes local adoption events and educates kids about the importance of spay and neuter.  We go to The Boys and Girls Club and do puppet shows for the little kids, we talk to the older kids, and let them tell us about their pets.  We give them literature to give their parents. We give and give and give because we love dogs.
This is what Cabodogz is Mr. Dote.  If you would like to see all the gorgeous faces we have adopted out, go to Cabodogz.com
Sincerely,
Mindy Benezra
---
The future belongs to those who believe in the beauty of the dream.
~ Eleanor Roosevelt