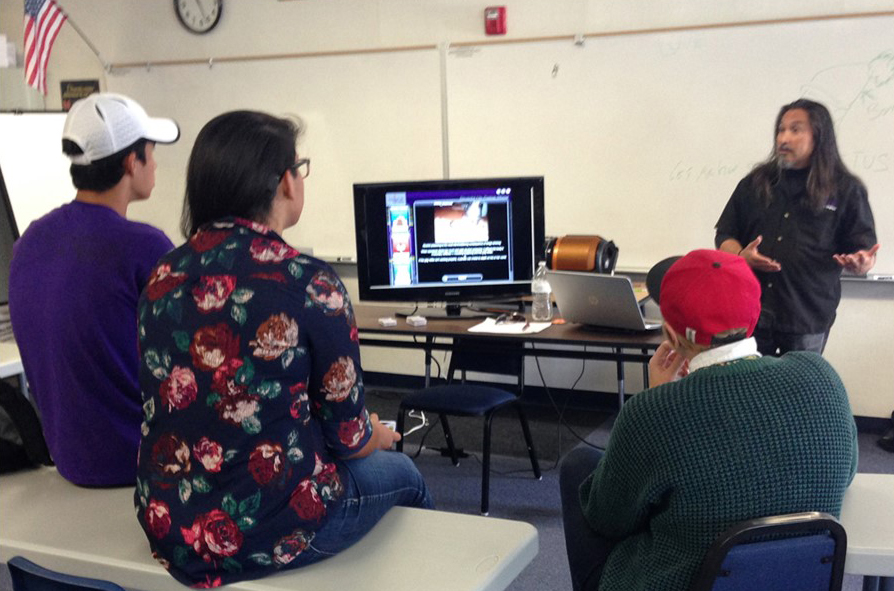 Straight Up staff member Roland Roberts leads an interactive activity/discussion abo with students at El Camino High School.
For the past few weeks, we've watched as Ventura students, from middle school to college, have been returning to their studies. With the new academic year, young people face new challenges. Some have found ways to find fresh starts, and prepared themselves so that they have the best chance to excel, and to avoid the many pitfalls they can face.
Some educators have helped with the transition, scheduling icebreaker and team building sessions during the summer, so that students can meet and interact with their peers.
Straight Up, a County-based youth development program that works with young people, has often been involved, scheduling activities and discussions to encourage young people to share, work together and gain confidence.
"Being able to open up channels of communication among young people is important," says Straight Up's Executive Director Katherine Kasmir.
One student who feels prepared is Nathan Silva, 11, of Ventura, who has started middle school. He recently participated in a Straight Up advocacy workshop, which armed him with information about the dangers of tobacco and other substances.
Does Nathan feel ready for the new school year? "The new grade is more competitive and I want that," he says. "I want to push myself harder to achieve my goals and get a lot more done."
Another young person facing a lot of change is Chris, 18 and from Ventura, who is on the road back from a struggle with drug and alcohol use.
"I was a 'varsity Christian' – I didn't drink or smoke weed. But then in my senior year, I was in a relationship that ended badly, and I spiraled into destructive behavior."
He has been open about his experiences, and has spoken to groups about his struggles, which helps his own resolve to stay sober, productive, and focused.
"I have never had a more solid sense of belonging and hope," Chris says. "This is what I was meant for. "
Do either Nathan or Chris consider themselves role models?
"Yes and no," says Chris. "Because of my experiences, I can relate and sympathize and get a deeper understanding of others – and hope they can find a good path, as I have done."
Nathan does think he can be a positive influence on others. "I can warn other people who are making bad decisions not to make them and that there will be consequences," he says. "I show people they should be nice and respect others."