• Herman Bennett Foundation's Haunted Mansion Dinner, Ghost Tour & Magic Fundraiser! October 30th at  the historic Bard Mansion on the Port Hueneme Naval Base benefitting the Foundation's spay & neuter programs across Ventura County.
Help control the local animal population and prevent the needless deaths of cats and dogs.
All tickets sales are a tax-deductible donation.
Tickets available by phone at 445-7171.
Visit hermanbennettfoundation.org for more information.
---
• I received the following from Mindy Benezra:
"My dear friend Scamp:
Regarding the photo of the Shih Tzu puppies in the last issue of the Breeze.
The truth is, a litter of 8-9 Shih Tzu puppies are cute, but not really, and they are quite unnecessary as is every litter of puppies until we fix the problem of overpopulation of pets.
There are plenty of Shih Tzu's and Shih Tzu mixes who are homeless and already born. Why do we want to make more of something we already have too many of?
Statistics state that 25% of purebred dogs end up in shelters, so 2-3 of these pups are doomed to homelessness.
Tens of thousands of healthy adoptable pets are euthanized  each year in California alone .
In this country 8-10 million pets enter shelters annually and less than half ever make it out.
If kids read  the Breeze or even look at the pictures, it is the wrong message to send.
No, puppies aren't cute… There are too many homeless dogs and cats already!
People should spay and neuter their pets, support their local shelters and rescues, they should not buy from breeders, they encourage  adoption. Once the shelters are clear of homeless dogs, we can make more Shih Tzu puppies and then they will be cute.
The only solution is  to teach our kids, they are the key to fixing this problem: the next generation, the ones who have learned about the tragedy of our homeless pets, and who are responsible and compassionate enough to be part of the solution( Spay and neuter) not the problem (more puppies)…
Thank you for everything that you have done to help CABODOGZ and other homeless pets find their way home.
Mindy Benezra
CABODOGZ
Ventura Hwy Luxury Boarding for Dogs"
Mindy: I appreciate what you are saying, and all you do to save dog's lives which is why I always have dogs to adopt but they still are cute. Scamp
---
• "The Blessing of the Animals" Saturday October 3, 11am
All pets are welcome for the blessing. Charles Carroll Funeral Home
15 Teloma Dr., Ventura. See the ad in this issue.
---
• The Humane Society has ranked California number one for six straight years on its list of fifty states for laws and policies that relate to wildlife, farm livestock, pets, and animal fighting. Regulations, legislation, and ballot measures have been passed by the state of California in order to improve the lives of our animals for many years. Some of these include bans on dog fighting and cock fighting, hunting of bears with dogs, poisonous lead bullets for hunting, and shortening dairy cow tails (I hope my tail is included in this).
There are horrible people who don't like these laws because they will lose business. Maybe dogs should have events where people try to kill each other and we could use the money to build no-kill shelters.
But I think it is something to take great pride in that  our state is known as the most animal friendly. Be sure to pet a dog today.
---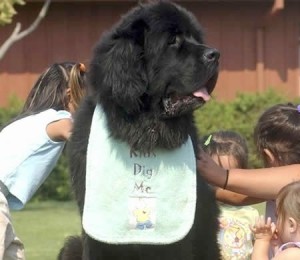 Archie the therapy dog has gone to doggie heaven where everyone is wagging their tails.
• It is with a deep and heavy sadness that Casa Pacifica has announced the passing of its beautiful Newfoundland and original therapy dog, Archibald Razz-M-Tazz – more famously known as "Archie the Therapy Dog." Archie, who turned 10 years old in May, was the agency's "gentle giant," a great healer who brought his peaceful, calming presence, comfort, and love over the last decade to nearly 4,000 children on Casa Pacifica's campus – children placed in the emergency shelter, residential treatment center, or attending the nonpublic school. He possessed an insightful intuition that seemed to tell him when a child needed his extra attention and gentle presence. He demonstrated an endless patience with children pulling his tail, poking in his nose and ears, tugging his fur, and lounging up against, or atop, his enormous body. He would sit for long periods of time with a child, letting them read to him or cry into his fur. He loved to run and chase behind the youth in Casa Pacifica's quad, sometimes stealing their football or soccer balls and popping them in his teeth, or swimming and playing with the children in the pool. The children loved it, and loved him. Archie was certified as a therapy dog and in water rescue.
Archie was the biggest dog that I ever saw.
---
• I want to thank East Ventura Animal Hospital for being a new sponsor in the Breeze. I will be asking them questions about animal care in future issues.
I asked my veterinarian friends at Ohana Pet Hospital these questions.
Q             Is it true that my mouth is cleaner than my human friends?
A             That is actually a myth.  The truth is that your mouth is overflowing with bacteria but most of those nasty germs are species specific so it won't affect your human friends when you go in for the sloppy, wet smooch. Always be sure to keep your shots current to avoid problems.  –  Dr. Jennifer Kelly, DVM  Thanks I love smoochy kisses.
Q             My human is a chocoholic but he never wants to share with me.  Isn't that mean?
A             No! You should actually say, "thank you" because chocolate can make you very sick or
even kill you.  Humans might love it but for you, chocolate can be poison. If one of your dog friends eats it, his vet should be called immediately. The vet will want to know how big your friend is and how much chocolate was eaten.  Depending on the answers to those questions, your friend might need to make a trip to the vet.  Dr. Jennifer Kelly, DVM Okay I will stick to strawberry Sundays