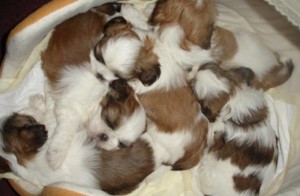 What's cuter then a bunch of Shih Tzu puppies? Maybe a bunch of any puppies.
The Humane Society of Ventura County will hold its ninth annual "Cats in the Canyon & Hounds in the Hollow" fundraiser on Sunday, Sept. 27, in Ojai.
The event will run from 2 to 5 p.m. at Boccali's pizza and pasta restaurant at 3277 E. Ojai Ave. Guests will have a vegetarian Italian dinner under the oaks; shop for donated items and services at the "Buy It Now" marketplace; visit with animal friends looking for new homes; and listen to live music provided by The Main Street Jazz Band.
HSVC is a "no kill," private, non-profit 501c3, organization founded in 1932. The HSVC does not receive any direct financial assistance from city, county or state agencies. Fundraising events, such as this, are what keep the shelter's doors open and their dream of finding a home for every animal in the county sustainable.
"This is our major fundraiser for the year and we are looking forward to celebrating with the public all of our accomplishments as well as what the future will bring," said HSVC Shelter Director Jolene Hoffman. "We hope to see many friends, both old and new, enjoying great music and food under the beautiful oak trees  while raising the funds necessary to keep the shelter growing to meet our communities' needs."
Tickets purchased in advance are $45 for adults and $30 for children 12 and under. Tickets bought on site will be $50 and $35, respectively.
For tickets or to donate a marketplace item, call 646-6505. For more information on the HSVC, visit www.hsvc.org.
The Humane Society of Ventura County has provided continuous support and services to animals in need and their owners throughout the county for over 83 years.
Ventura County based dog rescue Canine Adoption and Rescue League (C.A.R.L.) will host a fundraising casino night on September 26th at the Saticoy Country Club. A variety of casino games will be available, including a poker tournament. For the poker aficionado who wants a bit of a challenge, there will be a poker tournament running simultaneously with the other games. All proceeds go to support C.A.R.L.'s sanctuary, rescue, and adoption program for local dogs in need. Saturday, September 26, 5:30 pm – 9:30
Saticoy Country Club, 4450 N. Clubhouse Dr., Somis.
You must be 21 years of age or older to attend this event (I'm only 13 so I can't attend).
All proceeds go to support C.A.R.L.'s sanctuary, rescue, and adoption program for local dogs in need.
PETA receives reports every year about animals who experience horrifying deaths after being left outside or in hot cars during the summer months. Recently a dog was found dead after being left in a hot car by a Thousand Oaks woman during 88-degree weather.
On a 78-degree day, the temperature inside a parked car can soar to between 100 and 120 degrees in just minutes, and on a 90-degree day, interior temperatures can reach as high as 160 degrees in less than 10 minutes. If you see a dog showing any symptoms of heatstroke—including restlessness, heavy panting, vomiting, lethargy, and lack of appetite or coordination—get the animal into the shade immediately. You can lower a symptomatic dog's body temperature by providing the dog with water, applying a cold towel to the animal's head and chest, or immersing the dog in tepid (not ice-cold) water. Then immediately call a veterinarian.
PETA offers the following suggestions for safeguarding animals during hot weather:
Keep dogs indoors: Unlike humans, dogs can only sweat through their footpads and cool themselves by panting. Soaring temperatures can cause heat stress, injury, or death.
Provide water and shade: When outside, animals must have access to fresh water and ample shade, and the shifting sun needs to be taken into account. Even brief periods of direct exposure to the sun can have life-threatening consequences.
Walk—don't run: In very hot, humid weather, never exercise dogs by biking and making them run alongside you or by running them while you jog. Dogs will collapse before giving up, at which point, it may be too late to save them.
Avoid hot cars: Never leave an animal in a parked car in warm weather, even for short periods with the windows partially rolled down. Dogs trapped inside hot cars can succumb to heatstroke within minutes—even if a car isn't parked in direct sunlight.
Never transport animals in the bed of a pickup truck: This practice is dangerous—and illegal in many cities and states—because animals can be catapulted out of a truck bed on a sudden stop or strangled if they jump out while they're tethered.
Stay alert and save a life: Keep an eye on all outdoor animals. Make sure they have adequate water and shelter. If you see an animal in distress, provide him or her with water for immediate relief and contact humane authorities right away.
Avoid hot pavement: When outdoor temperatures reach the 80s, asphalt temperatures can reach 140 degrees, causing pain, burns, permanent damage, and scarring on dogs' paws after just a few minutes of contact. Walk on grass when possible, and avoid walking in the middle of the day.