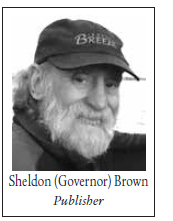 ~ In this issue, we have Unsung Hero portrait number 3 in our current series. I want to thank Sam, the owner of the Rhumb Line restaurant, for being such a gracious host at the luncheon and our waitress Heather for taking such good care of us. Wonderful food and the best view in Ventura watching the boats go by day or night.
~ Five portraits from The Face of Ventura series by Johanna Spinks, are currently on display at the Museum of Ventura County's current exhibit of portraits. See our Ventura Art Scene section for more details.
~ The Saturday night concert series at Ventura's coolest summer outdoor night club, the historic Olivas Adobe, concludes on September 5 with Lisa Haley & the Zydekats. It's too late to get tickets for this sold out event but be sure to attend a concert next year to hear great bands, enjoy a big dance floor, BYO dining, and gourmet food and coffee trucks along with full beverage service. The City's Music Under The Stars concerts are growing in popularity. It's a great, intimate, venue and a fun way to spend 8 Saturday nights each Summer.
Talking about concert series, it seems that the proposed concert series planned above City Hall may not be happening soon. I haven't been able to get a good answer from anyone at the City regarding this, but there doesn't appear to be positive movement.
~ It is absurd these days that 55-year old people are considered to be seniors in many programs. That was fine when the average life age was 65. It seems that today to be considered a senior the age should be at least 65. Anyone who is 55 and considers themselves to be a senior better get out and get some physical and mental exercise. What would I be considered to be, a dinosaur?
~ Recently, San Buenaventura was selected by a magazine as the best city in America to live and now "Ventura County" has been selected as the absolute most desirable place to live in America. This selection was made by the Washington Post looking at over 3,000 counties.Friends of the Library and TAG won 1st place in the County Fair Parade for Novelty Entry. And the Bookworm won a trophy.

Friends of the Library and TAG won 1st place in the County Fair Parade for Novelty Entry. And the Bookworm won a trophy.
Furthermore, in their rankings of the best counties in the continental US all of the top 10 ranked counties are in California.Humboldt was second and Santa Barbara third.
The index that they used to make their selections combines "six measures of climate, topography, and water area that reflect environmental qualities most people prefer." Those qualities, according to the U.S. Department of Agriculture, include mild, sunny winters, temperate summers, low humidity, topographic variation, and access to a body of water (not one word about reading the Ventura Breeze).
~ I have always felt that "vaping" was just another excuse to smoke. Now there is bad and good news about vaping. Although smoking by teens has been dropping, the bad news is that teens using e-cigarettes are far more likely to start smoking traditional cigarettes than their peers. The good news is when they realize how stupid it is to smoke they can go to vaping as a way to stop smoking.
I'm sure that I will hear from some readers (I hope), who say that vaping is much less hazardous than tobacco, but it is too early to make such a claim until much more research is done. All we know is that companies similar to Vapeboss are heavily investing in research to ensure their products are 'healthier' than traditional tobacco cigarettes. So, maybe don't throwaway your vape pen stand just yet.
~ In a June, 2014 issue of the Breeze, an article stated that the "Harbor Community Church has filed a lawsuit against the City of Ventura signaling the start of the next round in the fight over the church's controversial homeless program. The program, which provides meals, showers and religious worship to a primarily homeless population has been accused of being the source of a significant uprising in criminal activity in a once quiet residential neighborhood, was reopened again by the church after the
lawsuit was filed."
The article said, "Last month, the City's Planning Commission denied the church a conditional-use permit citing the program, called Operation Embrace, was not appropriate for its location next to an elementary school, park and day care facility."
At the time, temporary City Attorney Juli Scott reported Harbor Church pastor Sam Gallucci sent her an email stating he was going to consult with church elders to decide whether the church would sue. The following day, the church filed a lawsuit and restarted its services.
Scott said the City was disappointed with the lawsuit and had hoped the church would be willing to work with the City to find a collaborative approach to providing their services in a way that would be less impactful on the neighborhood. She pointed to other organizations that provide services for the homeless who had worked with the City including the Salvation Army, Lutheran Social Services, Society of St. Vincent de Paul, and Project Understanding.
The suit argued the church's First Amendment freedom of religion rights have been violated and also cites the Religious Land Use and Institutionalized Persons Act.
After all attempts at mediation have failed, this on-going disagreement continues. Harbor Community Church is seeking an injunction so it may reopen Operation Embrace until a final decision is reached by the 9th U.S. Circuit Court of Appeals who will hear their case.
Neighbors have complained that the program drew a homeless population that was not compatible with the residential neighborhood, especially with a school and park located very near the church.
I have to agree with the neighbors and the city. I think that the allowed uses of structures should be based on proper zoning and the nature of the surrounding neighborhoods.
A church could claim that because of their "freedom of religion rights" they can provide any services that they think this right gives them. There are some wonderful programs that serve the homeless in Ventura, but they are located in appropriate locations.
Logic will get you from A to Z, imagination will get you everywhere.
~ Albert Einstein