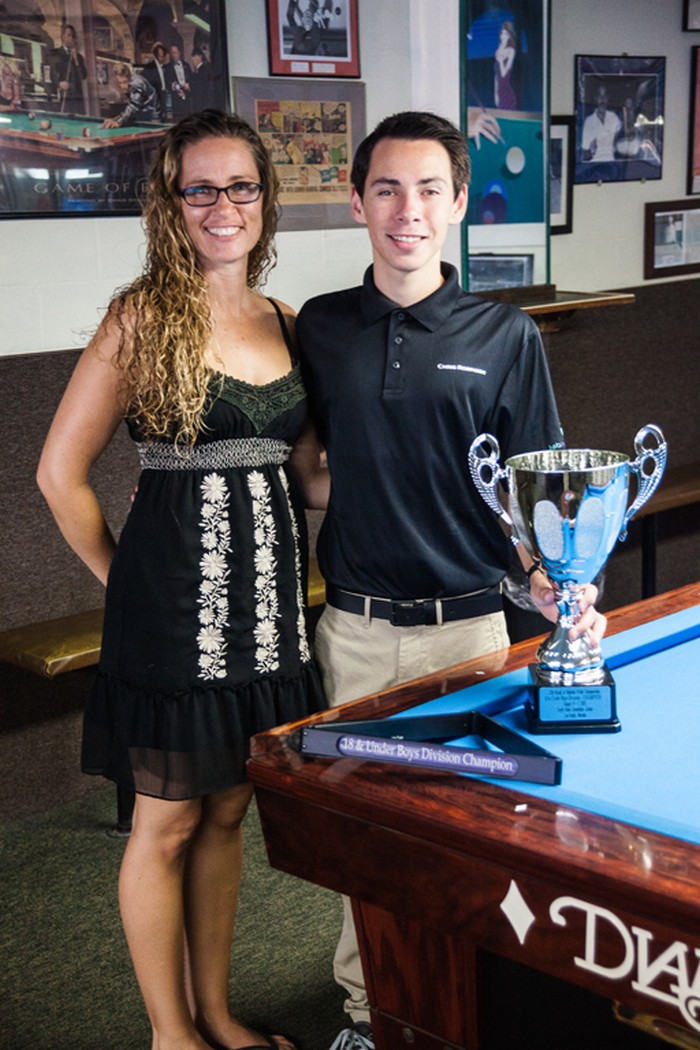 Mom is right proud of son Chris Robinson-Reinhold
Photo by Bernie Goldstein
by Sheli Ellsworth
If playing billiards well is a sign of an ill-spent youth, 17-year-old Venturean Chris Robinson-Reinhold's teen life is doomed, but don't tell him—not before he goes to China to compete in the World Pool-Billiard Association's Junior 9-Ball Championship. In November, Robinson-Reinhold will travel with six American junior pool players along with his own chaperone to Shanghai to go up against 16-32 other young international players.
Robinson-Reinhold's rise in competitive billiards has been steep, fast and not without notice. He started playing three years ago when his uncle, Kevin Farrell, taught him the basics. "I don't have a pool table at home, but I live really close to Stiix Billiards," says Robinson-Reinhold. Jerry Matchin, owner of Stiix and a lifetime pool player, says, "Chris is our special player. A good son, student, good citizen who happens to be an exceptional billiard player at his young age. His winning the Junior Nationals is quite an accomplishment for him and we at Stiix Billiards could not be prouder of him."
Robinson-Reinhold says he spends several hours a day at Stiix honing his skill. "It depends on how much homework I have, though."
After finishing high in a few Mezz West state tour events, and winning a Hard Times LA monthly event, Robinson-Reinhold won this year's Billiard Education Foundation Junior National Championship at South Point Casino in Las Vegas. The August 2015 win made him eligible for the November international tournament. However, Robinson-Reinhold's has not been a success only journey. "I went to Louisville, Kentucky last year for the national championship and I didn't do well. But it turned out to be a great learning experience . . . I needed it  . . . I learned about defeat."
The young champion's learning will not stop in Kentucky. He is hoping to earn a spot at Lindenwood University at St. Charles, Missouri in the near future. "I'll graduate by the end of the fall semester and Lindenwood has the only prestigious billiard program in the United States." He's not sure on what he would like to major in, but is interested in both electrical engineering and architecture.
Lindenwood's billiard coach, Mark Wilson, was a professional pool player, instructor, TV commentator and author of Play Great Pool (based on biomechanical principles) when the university recruited him to start the only scholarship-based pool program in the country which was officially launched in 2012. "I decided if I was going to do this it had to be the platinum standard of its kind. Unfortunately, even the larger schools that have billiards teams don't have the funding to make it a premier program," says Wilson. Wilson, who observed the US Navy Seals in Coronado, based his training techniques on the core values and discipline he admired about Navy seal training. "We have about 32-35 students, including 7 females in our billiard program. We were an all-female school until 1997 so we definitely encourage girls to play." About 4-5 of Wilson's students plans to play professionally. Wilson says he has his eye on Robinson-Reinhold.
Stiix Billiards is planning a fundraiser to help with Robinson-Reinhold's expenses to China.