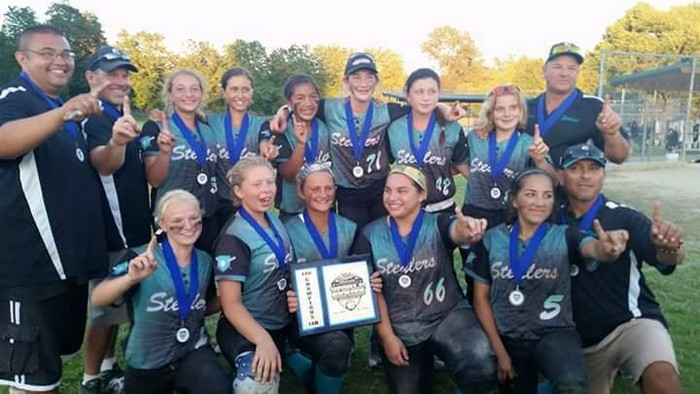 Top row Coach Nick Garcia, Coach Mike More, Katelyn Kelley, Sierra Garcia, Jessica Mendoza, Abigail Sourwine, Kalyssa Muniz, Kelly More, Coach Jere Dietz.
bottom row Jamie Dietz, Jaymes Howard, Rylee Mcdaniel, Courtney Terrazas, Katherine Tafoya, Coach Patrick Tafoya. Not show Jocelyn Hernandez.
Ventura Stealers traveled to Seattle Washington July 15-18 for the NSA Western World Series and played in the 14 Division, games were played in the cities of Marysville and Monroe Washington.
In the  14 Division there were a total of 12 teams, during the days of the double elimination tournament the Ventura Stealers played a total of 9 games scoring a total of 86 runs and giving up 49, in pool play their record was 1-1 and in bracket play their record was 6-1 finishing with a combined record of 7-2.
The Ventura Stealers playing in their fourth game of the day, defeated the Washington Snohomish County Red  6-4 in the Championship Game completing a fantastic tournament in first place and becoming the 2015 NSA Western World Series Champions.
Teams that participated in the tournament were from Washington, Oregon, Northern and Southern California.
During the final day of the tournament the Ventura Stealers were one game away from being eliminated, during each game together as a team the girls played through bumps, bruises, errors, tears, sad times and happy times. The girls constantly cheered, consoled one another, encouraged each other, and every girl participated and contributed to each win.