Audrey Nicholson
Portrait by Johanna Spinks
Audrey Nicholson, 33, a Ventura mother of three, had the humbling and frightening experience of a lifetime in the ocean waters
off the Ventura County's Rincon coast on February 16. Because of her actions, two children survived a near drowning and, she was nominated for a Gold Lifesaving Medal.
Nicholson is credited with saving the lives of two young girls at Bates Beach when a strong rip current pulled the girls out to sea.
Noting that she still doesn't know the names of the girls and has not spoken to them since the incident, Nicolson said her three young children were at the Rincon beach when she noticed people on shore acting alarmed and shouting at two young girls in the water.
"As I approached the water's edge, I knew immediately the girls were in danger and panicking. The mother of one of the girls was attempting to swim out but was quickly overcome by the strong current and began pleading for my help."
Nicholson assured the mother and dove into the surf and began the swim through a strong rip tide to the girls.
"I could only see their faces, no arms, no signs of strength, they were barely treading water. Each wave that hit them I feared would be the one that would exhaust their wills to keep afloat."
Nicholson describes herself as a decent swimmer and credits an active lifestyle of yoga and dance to help remain physically and mentally capable and calm.
Still, without consistent ocean swimming experience, the power of the current and the constant pounding surf exhausted her instantly.
"Immediately I was humbled by the ocean the second I felt it. When I reached the first child, she frantically wrapped her arms around me and we both sank instantly. All I could think about was my own three children standing on the shore. I knew I had to get us all back safe."
She regained her composure and she reiterated the importance of calming down and breathing deeply through the sets of waves as they swam.
After returning the first child to her mother, Nicholson scanned the shore for help. "I was so tired and had swallowed a lot of water already and was so worried to go back in feeling so out of breath. I was very concerned about whether I could get to the second girl," Nicholson said. "She had been going under a number of times and she was barely staying afloat. "
Nicholson again placed the second girl in her arms and simply began swimming as best she could to get to shore. A young man on a boogie board had made his way over to help put the girl on his board and help Nicholson to the sand. "That helped greatly because by that point, it was all I could do to get myself in, he was so calm and kind, it was a relief to have him there." Nicholson said.
By the time the second child made it to shore, paramedics were at the scene, treated both girls, and took them to the hospital to have them checked for signs of secondary drowning.
She was nominated for the Gold Lifesaving Medal by Jim David.
"A friend of mine who was there told me about what happened," said Jim David, a retired Navy commander and a search-and-rescue pilot who performed a number of water rescues during his service. "I couldn't believe the story when I heard it. The second
girl was in the second stage of drowning; that's when you can't stay afloat and you're swallowing a lot of water. After that, death
becomes a very real possibility."
David said there are two levels of lifesaving medals, and the gold is extremely rare.
"It's given to someone who risks their life to save someone else," David said. "It's fair to say that Audrey risked her life by going out a second time to get the second victim."
David said he met Nicholson and, after speaking with her, researched the lifesaving medals and nominated her for one of the Nation's most prestigious. The Gold Lifesaving Award is the highest honor bestowed by the U.S. Coast Guard and one that's
rarer than the Medal of Valor.
Audrey stated, "I am very honored to receive the nomination and to be selected as a Ventura Breeze unsung hero. The highest
reward was the saved lives, the grateful nod to life's ultimate challenges be they big or small that restore the faith in one's own
spirit and the lessons that this powerful earth and it's elements have to teach us. For that I am humbled and happy."
Helping Audrey celebrate were her family. Daughters Laurel (7) and Stella (10), mom Kim
Johnson, aunt Judy Johnson, sister Hayley Garr, niece Rowynn Garr (3) and son Mose (4).
On August 22 a luncheon was held at Rhumb Line-The Sunset Restaurant to present Audrey
Nicholson with her Unsung Hero portrait painted by Johanna Spinks. Attending the presentation
were her family, Breeze Publisher Sheldon Brown, Johanna Spinks and the series sponsors Jordon and Sandra Laby.
We asked Audrey how it was having her portrait painted she answered "Having my portrait painted
by Johanna was a really unique experience. I love the arts and it was a wonderful experience to talk with Johanna about her life of pursuing it. I was not nervous because it felt like a treat to be painted!"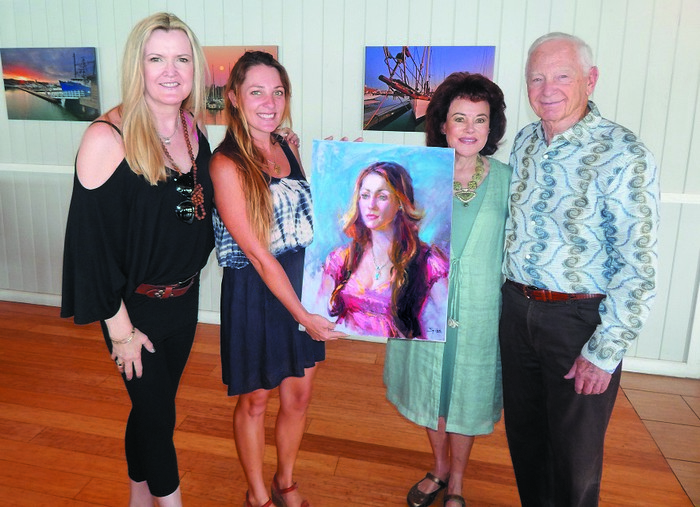 Audrey Nicholson accepting her portrait from Johanna, Sandra and Jordan at the presentation
luncheon.
This new series of portraits (Unsung Heros) will be painted by Johanna Spinks and presented in the Ventura Breeze. Johanna stated "It was an absolute privilege to paint my portrait series The Face of Ventura, and then an extra honor for those 58 portraits to
end up in the permanent collection of the Museum of Ventura County. I am very excited to see The Face of Ventura kept alive in this new award series, graciously sponsored by Sandra and Jordan Laby." Do you know a Ventura Good Deed Doer that you have read about in the Breeze, or elsewhere, that you would like to nominate for the Face Of Ventura Awards?
If you do please send your nomination, and why you think that they deserve the Award to [email protected]. We look forward to your nominations.