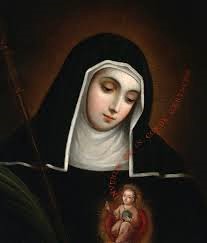 by Richard Senate
November 15th is the fest day of Saint Gertrude the Great. A German Benedictine Nun who was known for her mystic gifts. She had a large following in Spain for her writings. Her name graces a lost chapel, a branch Mission, five miles north of Ventura, that stood on El Camino Real and the Ventura River.
No one knowns when it was built, they think it was some time in the early years 19th Century. Three times, possibly four, it served as the Mission when Earthquakes damaged the Mission  San Buenaventura in 1812 and 1857. Once the padres sought shelter here when the Argentine pirate Bouchard threatened the missions after attacking Monterey in 1818. The small adobe building with its orchard was a sort of landmark with the many Chumash grass huts that were built near the old chapel. So many huts that the area became known as Casitas (little Houses). The tiles of the roof were removed from the abandoned site and may have been used to roof the Ortega Adobe.
Adobe is a unique building material, if not kept up, it slowly dissolves back into the soil from which it was made–totally biodegradable. That's what happened here to the Chapel of Santa Gertrudis.  The old trees survived and letters tell of people riding their houses to Ojai, stopping on their journey to enjoy a Mission Pear, from the old trees. The chapel and its history was forgotten, becoming a footnote in the story of Mission San Buenaventura.  That is until the state decide to build a freeway on the site.
It was rediscovered and an archaeological dig under Roberta Greenwood and Robert O. Browne was undertaken in 1964. The foundation stones were uncovered and tile fragments. that indicated there was a three-room building with a court. The largest room was believed to have been used for religious services. You can not visit this site for it is under the freeway heading towards Ojai today. A monument, using some of the foundation stones was put up and is designated Ventura Country Historic landmark number eleven. It can be viewed on North Ventura Avenue.  Once trees helped to mark the monument but the Thomas Fire destroyed them.
It is sad that the site is gone but with the data collected by the team, a replica of the small adobe branch mission could be built as a museum to tell the story of this site and  Chumash Native American contribution to our city. On November fifteen, pause a moment and remember the lost chapel, visit the site and reflect on  all the history that passed this way. Perhaps they should re-plant the pear trees here, so that modern travelers could pause and enjoy a pear, as they travel what was once the King's Highway.