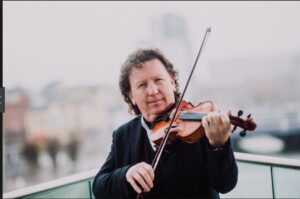 Multi-award-winning musicians will grace the NAMBA stage this fall. Country musician, Rocky Mountain Female Vocalist of the Year and social media phenom, Belles; The "fastest violin player in the world", Frankie Gavin; and contemporary American rock musician and inductee into the WAMI Hall of Fame and Willy Porter will be featured.
November 18th features Belles at 7 pm. With stunning vocals and lyrics, Kelli Rachel Belles' natural charisma and charm comes through her songs and straight to your heart. Nashville industry folks have compared her songwriting to a young Dolly Parton, and a female Brad Paisley. Kelli will be joined with Laura Joy, a nationally touring artist who impresses audiences with her warmth, ability to connect emotionally, and her songs that touch the soul.
On November 19th NAMBA is excited to present, straight from Ireland, Frankie Gavin accompanied by award-winning pianist Catherine McHugh. In 2010, Frankie officially became the world's fastest fiddle player when he played The Foxhunter's Reel, at a breath-taking 150 beats per minute! Frankie is working in a duo with Catherine McHugh, who is widely regarded as Ireland's foremost piano accompanist and is featured on Frankie's new album Port Eireann.
On December 3rd, Willy Porter, a largely self-taught musician, who began treating audiences to his brand of guitar playing and wry storytelling in the late '80's and has since literally logged millions of miles across America, Canada, the UK, and Europe, touring solo. He has played with artists such as Tori Amos, Paul Simon, Jethro Tull, Sting, and Jeff Beck.
Many local, successful performing artists have roots at NAMBA Performing Arts Space and will be performing this season. Wendy Castellanos presents Flamenco in the 805 on December 2nd at 7pm, it's 6th annual Flamenco! Showcase. Ana Quintero singing timeless gitano melodies, Tony Triana and Scott Wolf on Flamenco guitar, while dancers Misuda Cohen and Wendy Castellanos set the stage ablaze with thundering rhythms, entrancing movements and heart wrenching expressions.
Doc Ventura and his All-Star band presents "Holiday Blues – Doc the Halls with Doc Ventura" – a music variety show on Saturday December 9 at 6:30PM. This year Santa Barbara's Brasscals Street Brass Band will kick off the evening by marching from the corner of Oak and Main to down the street to Namba Arts! Also featured is Mint Dolphin, Tom Collins and Hank Van Sickle, The Sea Hunters, Fito de La Parra, R.J. Mischo, Rick Holstrum and Hank Van Sickle.
A 501(c)3 organization, NAMBA Performing Arts Space is an intimate venue that hosts classes, workshops and community events showcasing music, theatre and dance. Offerings include classes in Improv, Acting, Flamenco, Ballet, Tango as well as open mics and songwriter's workshops. In addition to being a venue for touring acts, we host showcases, community and cultural events, workshops, and educational programs related to performing arts. Our calling is nurturing new projects, fostering collaboration, and enriching the cultural landscape of our community and beyond.
NAMBA Performing Arts Space, 47 S Oak Street, Ventura, CA. Tickets are $20-$25 and can be purchased at www.NambaArts.com.