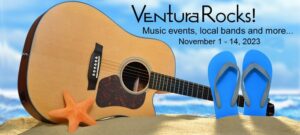 by Pam Baumgardner
VenturaRocks.com
We're at the time of year where we don't know what the heck to wear when heading out to take in live music. Is it going to be cold? Hot? Windy? What's going on? It changes not only day to day, but hour to hour. Your best bet is to wear layers. You're welcome.
It turns out there may be tickets available after all for the acoustic Soul Asylum show in Ojai for Saturday, November 11. This is a rare opportunity to see Dave Pirner and Ryan Smith perform in such an intimate setting. I was surprised to no longer see "sold out" on the Deer Lodge website (DeerLodgeOjai.com); my advice is to snag 'em before they're really gone!
The next free Ojai Pops Orchestra show will be on Sunday November 5 at Libbey Bowl starting at 1:30 in the afternoon with classical woodwind quintet, Ventvm Qvintet followed up with Tuxedo Junction Jazz Band featuring vocalist Freda Ramey.
Poncho Sanchez returns to the Grape with his brand of hot Latin jazz with two shows on Sunday November 5. At press time, the 6 pm show was sold out with tickets still available for the 8 pm show.
Tickets are on sale now for the next Chick Singer Night returning to the Sound Palace in Oxnard for a show on Saturday, November 4. This time they'll feature Krystal Park, Jess Bush, Rachael Lynda, Lois Mahalva and Eliya Frantz. Chick Singer Night started over 30 years ago in Chicago and has grown nationally with a local chapter here in Ventura County headed up by Jodi Farrell.
I am totally intrigued with the "Beatles vs Stones, a Musical Showdown" event at the Oxnard Performing Arts Center on Saturday, November 11. Taking the part of "Beatles" is the tribute band Abbey Road, and on behalf of "Stones" is the tribute band, Satisfaction. This is a national touring show having performed on stages coast to coast and having done residencies at Harrah's in Reno and Laughlin for five months. Tickets available through Axs.com.
Concerts just announced include Ozomatli for the Ventura Music Hall on December 14 and you know it's going be a tongue-in-cheek night of punk fun when The 28th Annual Christmas Formal will feature The Vandals this year at the Majestic Ventura Theater on Friday, December 22.
Quick Notes: Lowered Expectations will celebrate Dia de los Muertos on Wednesday, November 1, at Vaquero y Mar; Rose Valley Thorns play the Ojai Underground on Thursday, November 2; Bombay's first Saturday live music show features Blurry Stars, Dielectric and Duncan & the Dragonslayers on November 4, 6-9 pm; D.on Darox and the Melody Joy Bakers take over Sans Souci on Saturday, November 4; and Luna Shade out of Colorado will bring reggae fusion to the Garage on Saturday, November 11.
Do you have any music-related news or upcoming shows you want help publicizing? Please send all information short or long to [email protected], and for updated music listings daily, go to www.VenturaRocks.com.