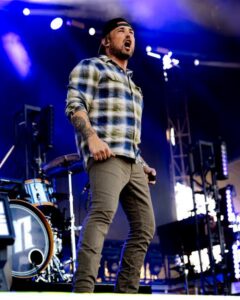 by Joesph Seemayer
Boots and Brews Country Music Festival is back at Surfers Point Live with Country Music Superstar Jon Pardi! Along with Jon Pardi, Michael Ray, Niko Moon & Highway Starr were all featured on October 15, 2023, in Ventura, at the Ventura County Fairgrounds.
"The Boots and Brews Country Music Festival in Ventura, California is one of the best country music festivals in the state— from its views of the beach to star-studded lineups, Boots and Brews is an annual event that keeps country music enthusiasts coming back year after year", as described by CBF Productions on the Visit Ventura California website (www.visitventuraca.com).
The festival grounds offer much more to do than its fantastic country music performances. Festival guests enjoyed good ol' fashioned line dancing at Honky Tonk or made their way through the Vendor Marketplace, an assortment of high-quality goods like hats, clothing, boots, jewelry, and more.
Hungry or thirsty? There were 15+ local food vendors featured, including several bars serving up a variety of canned and mixed beverages.
Bars were serving whiskey cocktails and ice-cold margaritas, along with beers from the popular Central Coast brewer, Firestone Walker.
"Festival organizers have a knack for booking some of the hottest acts in country music, from established stars to up-and-coming talent. Expect top-notch performances and a diverse musical experience that spans traditional country, modern country rock, and everything in between", states the Visit Ventura CA website.
This year's music lineup continued the festival's talent for booking some of Country music's top stars and up and upcoming acts. The 2023 festival was headlined by country music legend, Jon Pardi who was accompanied by several other notable country music stars including Michael Ray, Niko Moon, and Highway Star. Below is some information about each artist and their music styles.
Jon Pardi (born May 20, 1985) is an American country music singer and songwriter. Signed to Capitol Nashville, he has released four studio albums: Pardi's music style is defined by neotraditional country influences.
Michael Ray Roach (born April 29, 1988) is an American country music singer and songwriter. Michael Ray's performance at this year's Boots and Brews captured the attention of the music lover's in attendance. Extremely entertaining, Michael Ray and his band interacted with the fans on almost a personal level.
Another featured artist at this year's Boots and Brews was Niko Moon (born Nicholas Cowan; September 20, 1982). Niko Moon is an American country pop singer and songwriter signed to RCA Nashville.
Starting off the concert was California local band, Highway Starr. The Bash (www.thebash.com) describes Highway Starr as Southern California's Premier High Energy Modern Country Rock Band.
Past Boots & Brews artists include Tim McGraw, Brad Paisley, Jake Owen, Morgan Wallen, Cole Swindell, Chris Young, and many more. The anticipation of who will be taking the stage each year adds an element of excitement that keeps fans coming back.