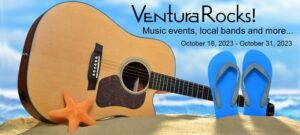 by Pam Baumgardner
VenturaRocks.com
We have two huge events landing on the same day, Saturday, October 21, celebrating two different municipalities. Both offer up great live music, so it's going to be tough deciding which camp you want to hang out with. First, it's Ventura County's 150th anniversary with a free family festival followed up with a ticketed event (EventBrite) at Santa Paula Veterans Park with Big Bad Voodoo headlining along with Rey Fresco, Mariachi Camarillo, Whiskey Business and the Charles Law Band.
Then across the hills it's Ojai Day with live music 11 am to 10 pm featuring Buck Moon, Spencer the Gardener, Beau Red & the Tailor Maide, Those Darn Amigos, Sick Boy, Van Allen Twins, Virtual Nobodies, Dylan Cunningham and Dan Grimm. May the best camp win!
Once you have this special weekend chocked full of live music choices behind you, it's time to look ahead at Halloween, Tuesday, October 31, and the week leading up to it. I've been seeing costume parties pop up as far ahead as the week before, so it's best to map out your choices and where you'll be meeting up with friends. I recommend (as always), going to VenturaRocks.com and use the calendar to search "Halloween" for all events leading up to the big day, currently there are 18 listed.
Head's up for this one, the Ventura Harbor's Thriller Zombie Dance Flash Mob will be held on the main lawn around 2:15 pm on Sunday, October 29. I'm thinking "flash mob" implies it's a seemingly random act…but if it's being publicized…then it's just a performance. In any case, you're welcome to join in, if you're dressed up in costume.
Studio Channel Islands in Camarillo will host The Black Market Trust on Saturday, October 28. The band features world class musicians and will perform material from the Great American Songbook infused with a romantic and virtuosic flavor, added with some intricate vocal harmonies and a dash of Rat Pack-style comedy. Find out more at StudioChannelIslands.org.
I saw a "Save the Date" post on social media for Skull and Roses 2024 which will return to the Ventura County Fairground April 19 – 21. Plenty of advance notice so you don't plan a vacation that same weekend.
Tickets are on sale now for the next Chick Singer Night returning to the Sound Palace in Oxnard for a show on Saturday, November 4. This time they'll feature Erinn Alissa, Jess Bush, Rachael Lynda, Lois Mahalva and Elyia Frantz.
Quick Notes: Namba has a punk show with Frequency Within, Intenable and Promotive on Friday, October 20; there's a free Ojai Pops Orchestra show at Libbey Bowl with Miriam Dance on Sunday, October 22; Dead Kennedys play the Ventura Music Hall on Saturday, October 28; and Tony Ybarra plays a intimate concert at Logan House at Beatice Wood Center for the Arts on Sunday afternoon, October 29;
Do you have any music-related news or upcoming shows you want help publicizing? Please send all information short or long to [email protected], and for updated music listings daily, go to www.VenturaRocks.com.