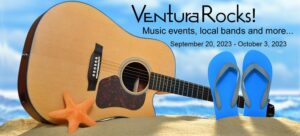 by Pam Baumgardner
VenturaRocks.com
Ventura Artwalk 2023 takes place over the weekend of September 23 and 24 from 11 am – 7 pm. You'll find art from local artisans in venues throughout the city at dozens of locations, as well as live music on the downtown stage at California and Main Streets, the City Hall Atrium, WAV Courtyard stage, and Steve TV at Mission Park. Get all the details and strategize your weekend at ArtwalkVentura.org.
The end of summer Beachside Bash BBQ will be held at the San Buenaventura State Beach benefiting the Ventura Rotary Club. This one costs $10 and features live music from Nautical Thrust and The Bomb on Saturday, September 23. Along with the music, there will be a car show as well as a national ribeye steak cookoff.
The 10th annual Banana Festival is Saturday, September 30, from 10 am – 5 pm at the Port of Hueneme. This free event includes port tours, a kid's zone, tasty eats (a lot having to do with the event's namesake), a marketplace and of course live music! The electric mix of entertainment features Los Cool Arrows (Latin pop, reggae), Tribute to the Greats (music featuring artists such as Steve Wonder, Chaka Khan), Upstream (Calypso w/ steel drums), Fausto Cuevas Y La Moderna (Salsa), and Coso Live (R&B, high energy pop). One's things for sure, wear comfortable shoes because you'll want to dance!
Oceanview Pavilion in Port Hueneme has a Steely Dan tribute band called Doctor Wu on Saturday, September 23, and Robby Krieger and the Soul Savages play the following weekend on Saturday, September 30. Just a reminder, Krieger was an original member of The Doors.
Candlelight Concerts are being produced in over 100 cities worldwide including Oxnard at the Oxnard Performing Arts Center. There's a tribute to Taylor Swift in November, a haunted evening of Halloween classics (think Thriller, Tubular Bells, Beetlejuice theme, Psycho, etc…) running in October, and a number of dates featuring the music of Vivaldi in September and October. Ticket information can be found at Feverup.com.
Quick Notes: Ventura Blues Night returns to Bombay Bar and Grill on Wednesday nights; another installation of Rock the Collection is Wednesday, September 20 with Prince Again; there's a special fundraiser/birthday bash in honor of Ted Neeley at the Rubicon on Wednesday, September 20; Swing Shift plays the Sportsman on Sunday, September 24; The Trivle Omdobble returns to Topa Topa Brewing on Colt Street, Sunday, September 24; Bloody Mary Morning plays Rincon Brewery on Friday, September 29; Todd Hannigan opens for David Burden at the Deer Lodge on Friday September 29; Salzer's Records has a special in store acoustic set with Briston Maroney on Monday, October 2; and finally, Shawn Jones has a new release called In my Blood as he heads back overseas for a European tour for most of October.
Do you have any music-related news or upcoming shows you want help publicizing? Please send all information short or long to [email protected], and for updated music listings daily, go to www.VenturaRocks.com.