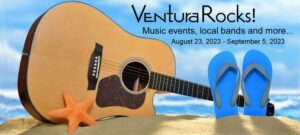 by Pam Baumgardner
VenturaRocks.com
I cannot believe Labor Day is almost here and with it what most call the "end of summer." Of course, nothing could be further from the truth as summer doesn't official end until Friday, September 22, and even then, we typically have warm gorgeous weather up until the middle of October. But I'm not a weather person and all I care about is that we have live music all year round! So, let's get started…
Spencer Makenzie has outgrown their original location on the public street next to their restaurant and they're now hosting their annual Throw Down Cornhole Festival at the Ventura County Fairs. Along with all the competition will be live music featuring Morie & the Heavy Hitters, Acoustic DNA, and Prince Again on Friday, August 25; then on Saturday the 26, it's Highway Starr and Whiskey Business. This is a ticketed event.
There's free admission for the Hueneme Beach Fest, but do plan to spend money on parking ($10, though a free shuttle will be provided as well) and carnival rides and of course all the delicious food offered by all the food vendors. Along with all the arts and crafts vendors and chalk art exhibition, there will be plenty of live music both days with Morie and the Heavy Hitters, Joyas Prestadas (tribute to Jenni Rivera), and Led Zepagain on Saturday, August 26, then it's Always Tina, Anything for Selena and Britain's Finest on Sunday, the 27 of August.
The Rubicon Theatre hosts The Platters, Many Voices ONE name, for five shows over the weekend of August 25 through the 27 with two shows on Friday and Saturday. You'll enjoy timeless classics such as "Only You," "The Great Pretender," "Smoke Gets in Your Eyes," My Prayer," and more. Find out more at RubiconTheatre.org.
Oh! And don't forget the Oxnard Jazz Festival falls over the weekend of September 9 and 10 at Oxnard State Beach. Secure tickets at OxnardJazzFestival.com.
Quick Notes: adding to the list of venues offering open mic/jam nights is Café Fiore on Tuesdays; As of press time, only the first of two nights has sold out for The Offspring at the Majestic Ventura Theater (Tuesday, October 17, and Wednesday, October 18); Rock the Collection kicks off their summer concert (while others are wrapping theirs up) with Bruno and the Hooligans on Wednesday, August 23; City of Caterpillar, the Discussion and Head Cut play Gigi's on Saturday August 26; Music Under the Stars wraps up the summer season with Lisa Haley & the Zydekats on Saturday, August 26; Neon Blonde plays Sans Souci on Saturday, August 26; Bell Arts Factory hosts Juan D. Mendoza on Sunday, August 27; The Trivle Omdobble plays Topa Topa Brewing on Sunday, August 27; and there's an extra night of music at Leashless on Tuesday, August 29 with Spring Loaded Band;
Do you have any music-related news or upcoming shows you want help publicizing? Please send all information short or long to [email protected], and for updated music listings daily, go to www.VenturaRocks.com.