About 60 guests attended this exclusive event. Photos by Randy Encinas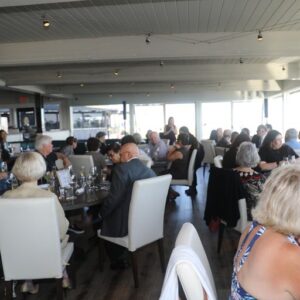 On July 25th, Water's Edge Restaurant hosted the first "Dine & Delight" – a private Winemaker's Dinner, benefiting Rubicon Theatre Company, Ventura County's leading not-for-profit professional theatre company.
The special 5-course dinner by award-winning Executive Chef Alex Montoya was expertly paired with wines from one of Napa Valley's most celebrated vintners, Caymus Vineyards.
Chef Alex took pride in locally sourcing ingredients to provide the freshest products while supporting Ventura's local fishermen, farmers, and ranchers. The perfect harmony of flavors elevated the dining experience, delighting wine enthusiasts and food connoisseurs alike, leaving them talking about the evening long after the final glass of wine was served. From oyster delight, sweet & sour pork belly and mango halibut aguachile to grilled Korean short rib before topping off with apple tarte tatin, diners were wowed by the expertly paired exquisite wine with each course.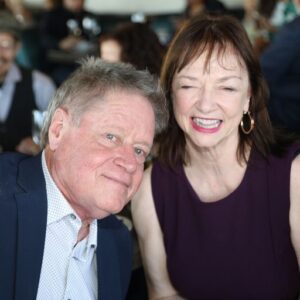 About 60 guests attended this exclusive event, some Ventura locals, and some drove in from Ojai, Thousand Oaks and Santa Barbara. During the main course, guests enjoyed a live musical performance by Broadway veteran and Rubicon artist Jennifer Leigh Warren (Big River and Marie Christine on Broadway, Dark of the Moon and Lonesome Traveler at Rubicon) accompanied by Musical Director Gerald Sternbach.
This exceptional culinary event was a successful evening of exquisite flavors, delightful wine pairings, live musical entertainment, and an opportunity to support the artistic and educational programs of Rubicon. It marked Rubicon's first of many fundraising events to come!
Guests who attended "Dine & Delight" directly contributed to the growth and success of Rubicon's artistic and educational initiatives, enabling the theatre to continue inspiring and enriching the Ventura County community through the transformative power of theatre.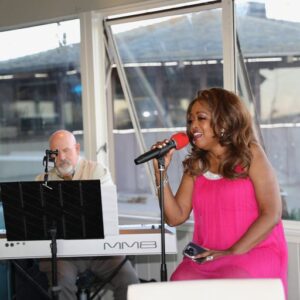 Rubicon Board President Doug Halter stated, "Guests not only savored the local culinary delights but also enjoyed musical entertainment, creating an immersive experience that celebrated the intersection of gourmet cuisine, exceptional wines, and the arts."